Eric Becker
Conservation Engineer, Wildlife Conservation Program
Eric Becker is a conservation engineer at WWF. In this role, Becker researches and develops sensor based systems to detect poachers in protected areas in Africa and Asia to stop wildlife crime. Becker also leverages advancements in the Internet of Things to find energy-efficient, low-cost methods and systems to scale up technologies to solve the planet's most urgent issues.
Prior to joining WWF, Becker worked as an engineering contractor for a variety of organizations, including The Defense Advanced Research Projects Agency and the Air Force Research lab, as well as for the Special Forces. He developed many gadgets, including micro air vehicles (devices under one foot and one pound) and regular sized small unmanned aircrafts. While at the University of West Florida, Becker competed in the Association for Unmanned Vehicle Systems International's student unmanned aerial vehicle competition, where his group flew the first-ever recorded fully-autonomous flight.
Becker owes his MacGyver-esque background to his father and grandfather, both of whom were engineers in the armed forces and inspired him to pursue his career path. Becker currently resides in Maryland with his wife, Alisha.
"Every nerd grows up and wants to change the world. As a lover of gadgets and animals, I saw a place where my skills could be useful to develop new technology to stop the slaughter of elephants, rhinos and other wildlife."
In The News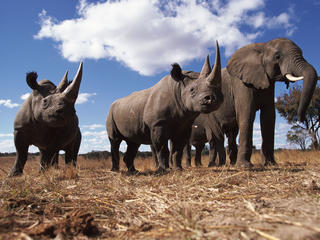 Videos
More on Eric
Title
Conservation Engineer
Education
University of West Florida
Areas of Expertise
Computer software development
Microprocessor-based systems
Wireless sensor networks
Digital and analog circuit design
Unmanned systems development (air, surface, ground)