Overview
From elephants to polar bears, WWF fights to secure a future for animals on the planet we all share. WWF helped bring back the Amur tiger and Africa's black rhinos from the edge of extinction. We are giving isolated, dwindling populations of black footed ferrets and river dolphins a second chance.
WWF continues to keep habitats and landscapes thriving. We envision, create, test and deliver solutions for a crowded planet. We work with partners at all levels, from community leaders to governments and multinational bodies. But our work is far from done, and WWF constantly strives to protect the species we all care about.
The plight of Sumatran rhinos needs global attention and commitments if conservation is to succeed. The science is telling us that we can't put off mounting a serious, concerted effort to save Sumatran rhinos. We have pulled three species of rhino back from the brink so we know we can do the same for the Sumatran rhino.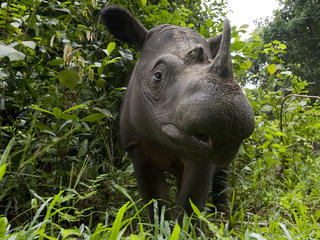 What WWF Is Doing
Rhinos were once widespread across Africa's savannas and Asia's tropical forests. But today very few rhinos survive outside national parks and reserves. Successful conservation efforts have helped subspecies like the greater one-horned (or Indian) rhino, to increase in number. In Africa, black rhinos have doubled in number over the past two decades, but total numbers are still a fraction of the estimated 100,000 that existed in the early part of the 20th century. Increasingly, rhinos are killed by poachers for their horns. WWF works to help governments and authorities crack down on wildlife crime. We set up training for law enforcement, track rhino movements via transmitters and set up hotlines—all to help stop poachers and build a future in which the rhino can thrive.