Overview
WWF's conservation work is grounded in science. Our scientists develop innovative approaches and apply the best available information to efforts directed at meeting the needs of both nature and people in a changing world.
WWF draws on biology, hydrology, oceanography, and the social sciences to advance cutting-edge conservation tools and methods, connect natural and social systems, and tackle emerging threats. Our scientists track conservation needs and lead regional and global analyses to identify and set priorities for the world's valuable habitats and species. We also rely on the scientific process to ensure that our on-the-ground conservation programs are effective and producing measurable results.
The Living Planet Index (LPI)—essentially the S&P 500 Index for wildlife—documents the populations of more than 3,000 wild species. And for the first time, species number less than one-half what they were in 1970.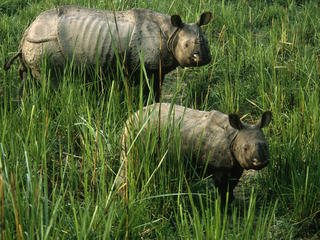 What WWF Is Doing
We harness the power of science to advance conservation of the most important species and places. Scientific publications, computer-based tools, and data sets generated by WWF strengthen the integrity of conservation efforts worldwide. WWF's seminar and symposia series foster scientific discourse and facilitate the cross-fertilization of ideas across sectors. Other conservation organizations, government agencies, and academic researchers regularly adopt WWF's innovations.
Connecting Scientists
WWF employs a wealth of scientific expertise in its work around the world. Sharing information among WWF's hundreds of dispersed scientists is critical to accelerating conservation. The WWF Conservation Science Network connects, supports and grows this community by providing access to the latest information and techniques, coordinating training and providing opportunities for collaboration.
Global leaders shared their insights on the growing crisis of wildlife crime at the 2012 Fuller Symposium. The symposium was held on November 14, 2012 at the National Geographic Society in Washington, D.C.

The 2013 Fuller Symposium explored how local and indigenous communities can empower themselves by managing their own natural resources—and in turn become a global force for conservation. This year's one day event took place on November 13, 2013 at the National Geographic Society's headquarters in Washington, D.C.
View All Projects