Overview
As economies around the world boom, a key question is how to balance growth with conservation. Without balance, people and wildlife—all who rely on natural resources to survive—can suffer. So can the businesses that depend on natural resources to thrive.
How, for example, can mines be created without polluting rivers people rely on for drinking water? How can forests be protected so that landslides—which dramatically increase the costs to build and maintain roads—can be avoided? How can logging be done without degrading tiger habitat?
And how can these questions be answered now, before nature is overexploited and its resilience weakened in exchange for short-term economic gains?
One way is to take stock of the natural resources in a country or region, as well as the benefits (or "ecosystem services") they provide to people and wildlife before decisions are made about their fate. This stock-taking can include assessing the degree to which—under different development and climate change scenarios—rivers will play in providing clean water for drinking, bathing, farming, and other household needs. Or asking where mangroves provide vital natural barriers that help buffer coastal communities when major storms hit.
These are important concerns for developing world countries and even for the developed world, as Californians stressed by a cycle of drought, fires, and floods know all too well. They are also important to address because natural resources, when managed to accommodate change and not just for persistence, help build a country's resilience to the disruptive impacts of climate change. As more intense heat waves, droughts, and storms affect forests, rivers, and streams, the way we manage these resources must change if we are to rely on the services they provide to people, wildlife, and businesses.
Devil's claw has been used by the Khwe people of southern central Africa for as long as anyone can remember. Prized as a remedy for aches and pains, the fleshy tuber's popularity as an alternative treatment has led to severe overharvesting. So the relative abundance in Namibia's Bwabwata National Park is precious—as is the organic, sustainable harvesting business the Khwe people are now building around devil's claw.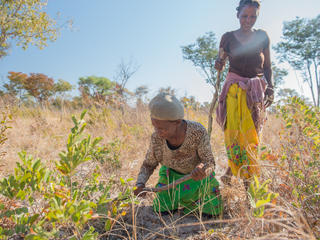 Why It Matters
Provide Clean Water

When forests are degraded by agriculture, mining, and the construction of roads, soil erodes and washes into rivers and streams. The result is poor quality drinking water for humans, damaged habitat for many freshwater species, reduced energy generation efficiency in hydropower plants, and more. This is particularly problematic in areas with steep slopes or frequent and intense storms that are due to climate change. Healthy forests and other natural vegetation play a key role in reducing or slowing the amount of erosion and chemicals that reach waterways.

Provide Enough Water

Rivers and streams flow fast during the rainy season. The rainwater is soaked up by trees and plants, stored underground and released during the rest of the year. If forest land is degraded—which happens, for example, when roads are poorly built—that cycle can be broken. Healthy forests, therefore, are critical to ensuring there is enough water year-round for household use and agriculture.

Prevent Flooding

Forests soak up water during heavy rainfall. They need it to survive. But when their soils become too saturated with water or cannot absorb water, flooding usually occurs. This often happens when forests are cleared to create impervious surfaces, such as roads, or degraded by illegal logging and other activities.

Protect Coastlines

Mangrove forests, coastal vegetation, and coral reefs—all which line the coast—act as a physical barrier between land and shore, helping to protect people and property from cyclones and storm surges. They also provide food and habitat for a large variety of fish, shrimp, and other species that are an essential food source for people living along the coast. Protecting the natural resources along the coast is more important than ever, given that large increases in the frequency and magnitude of flooding are projected as sea levels rise and storms grow in intensity and frequency.

Absorb Carbon Dioxide

When trees are cut down, the deforested land becomes a source of harmful greenhouse gases instead of serving as an important "sink" that absorbs carbon dioxide. Emissions from deforestation account for approximately 15 percent of global carbon emissions. This is more than the total combined emissions from all cars, trucks, trains, planes, and ships in the world. Carbon sinks are lost, too, when peatlands are drained and turned into palm oil plantations. In Indonesia, for example, peatlands store more carbon per unit area than any other ecosystem in the world.

Provide Habitat for Life on Earth

The same forests, mountains, oceans, and rivers that are beneficial to people often are ideal habitat for a wide array of species. But much of their habitat is under threat. When roads are built through forests, for example, poaching and vehicle collisions with wildlife can increase. Maneuvering and migrating through the forest becomes challenging, too, making it harder for wildlife to find food, mate, and more. No species—including people or wildlife—benefit from the habitat under these conditions.