Many of the world's poorest communities rely on the natural resource base for food, water, shelter, and income. But these vulnerable communities face competing local and global demands for nature's terrestrial and marine resources.
In 2008, CARE and WWF launched a strategic Alliance to address the root causes of poverty and environmental degradation. CARE and WWF, already working side by side on many projects, recognized that they could not effectively confront these challenges without working together as partners—not only with each other but also with other stakeholders.
The goals of the Alliance are to:
attain healthier livelihoods and ecosystems, ensuring natural resources are managed for current and future generations
empower citizens, especially vulnerable women and girls
build supportive policies and institutions from the community to the global level
Building on lessons from decades of conservation and development work, the Alliance goes beyond geographic and political boundaries and focuses on a sustainable future for rural communities that live in fragile ecosystems.
Early Success
The Coastal Communities initiative of the CARE-WWF Alliance works with communities and partners at the local, national and regional level to secure a healthy marine ecosystem along the coast of East Africa. We have engaged with more than 10,000 coastal households since 2008. Results so far include:
Developing marine sanctuaries to facilitate rebounding fish stocks
Introducing new conservation agriculture techniques to increase productivity and ecosystem services
Organizing community associations and village savings and loans to expand markets and income from fishing and agricultural activities
The Coastal Communities initiative is only the beginning of our work. The Alliance represents a 10-year commitment to realizing community-based natural resource management on a global scale that has never before been achieved. The project will protect marine areas, sustainably manage natural resources and benefit and enhance livelihoods of local coastal communities.
CARE-WWF Alliance Summit
On September 11, 2012, the CARE-WWF Alliance hosted a Summit titled "Empower and Thrive: Creating New Pathways for Development and Conservation." The event convened thought leaders from the Global South and North and across government, private, civil society/non-governmental sectors to provoke innovative thinking about the future of conservation and development in light of the global change in markets, climate, agriculture, technology and other major drivers. See the results from the Summit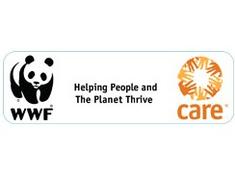 Building on a seven year-old pilot program in Mozambique, the CARE-WWF Alliance is now exploring opportunities to advance environmentally, socially and economically sustainable food production systems in Tanzania and Zambia.