Overview
The Northern Great Plains spans more than 180 million acres and crosses five U.S. states and two Canadian provinces. As large as California and Nevada combined, this short- and mixed-grass prairie is one of only four remaining intact temperate grasslands in the world.
Continent

North America

Species

Plains bison, Black-footed ferret, Pronghorn,
Two hundred years ago bison, black-footed ferrets, pronghorn antelope and a diverse array of songbirds shared the Northern Great Plains. While mapping and exploring the west, Lewis and Clark came across the Northern Great Plains. Awestruck at the scenery before him, Captain Lewis noted "immence herds of Buffaloe deer Elk and Antelopes which we saw in every direction feeding on the hills and plains."
The diverse wildlife that roamed these vast grasslands are not lost. They still call this place home, but their calls are muted and tracks and nests less abundant. WWF is working to change that. We bring science and partners together to conserve wildlife and strengthen communities. At the heart of our vision is a mosaic of private, public and tribal lands managed independently that all benefit wildlife and communities. This goal advances wildlife and prairie conservation and helps local communities recognize the benefits from their contributions.
Bison are the largest native grazers of America's Northern Great Plains. Take a look at why bison are unique to our landscape and what WWF is doing to help.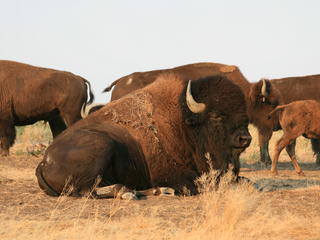 People & Communities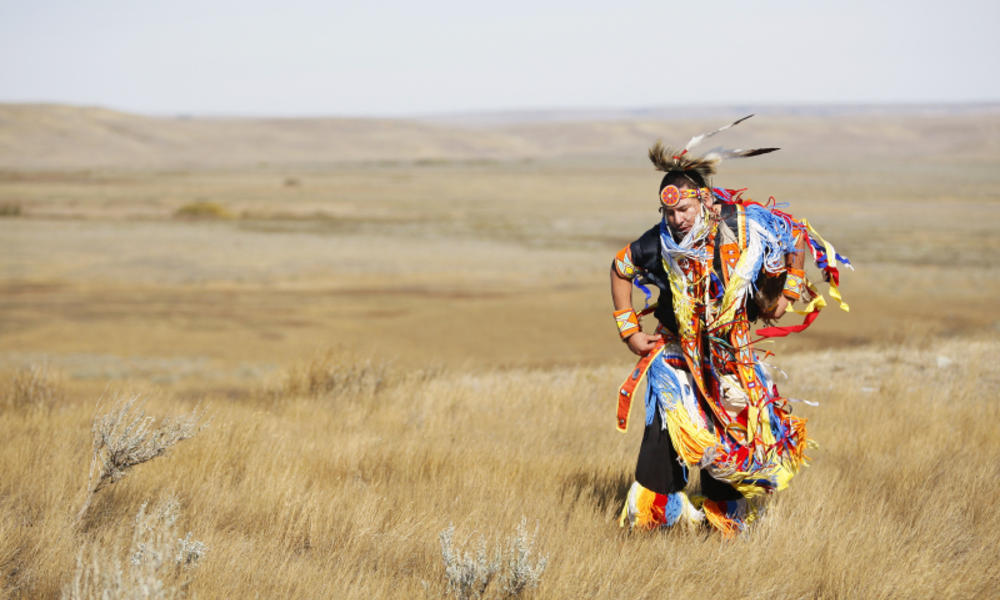 Many of the ranchers and communities in the Northern Great Plains are the great grand children of the first European settlers in this area. Native Americans, the region's original land stewards, retain a powerful connection to the wildlife and grasses that once sustained their ancestors. WWF is committed to finding conservation solutions that will bolster the economic opportunities for the people and communities who call this region home.
Collaboration with Native American Tribes
WWF works closely with Native American Tribes in Montana and South Dakota, including the Northern Cheyenne and Oglala-Lakota. WWF and the Northern Cheyenne people are working to restore populations of the endangered black-footed ferret and create a comprehensive wildlife conservation plan for the Montana Reservation. The Oglala-Lakota and National Park Service have been working to designate the first Tribal National Park south of Rapid City, South Dakota. WWF collaborates with the tribe and Park Service and is supporting their vision to restore bison to this landscape.
New Opportunities in Nebraska
The Switzer's, who live on a cattle ranch near Burwell, Nebraska, realized that the prairie song birds they grew up hearing weren't coming around as much as they did before. To address their concerns and improve wildlife habitat, WWF supported the Switzers in developing a biodiversity management plan. The proposal was compatible with their grazing plan and offered additional income-generating potential though tourism development. These efforts have yielded healthy cattle and vibrant wildlife, earning them Audubon's first ever "Important Bird Area" designation on private land in Nebraska. It has also resulted in new income and community opportunities on their land, including the official Nebraska Prairie Chicken Festival held on their land each spring.
Sustainable Ranching
Cattle ranching is an important part of the Northern Great Plains. Some families in the region have been ranching for more than 150 years to support their families. WWF provides ranchers with resources and progressive ranching techniques that are wildlife and cattle friendly.
Threats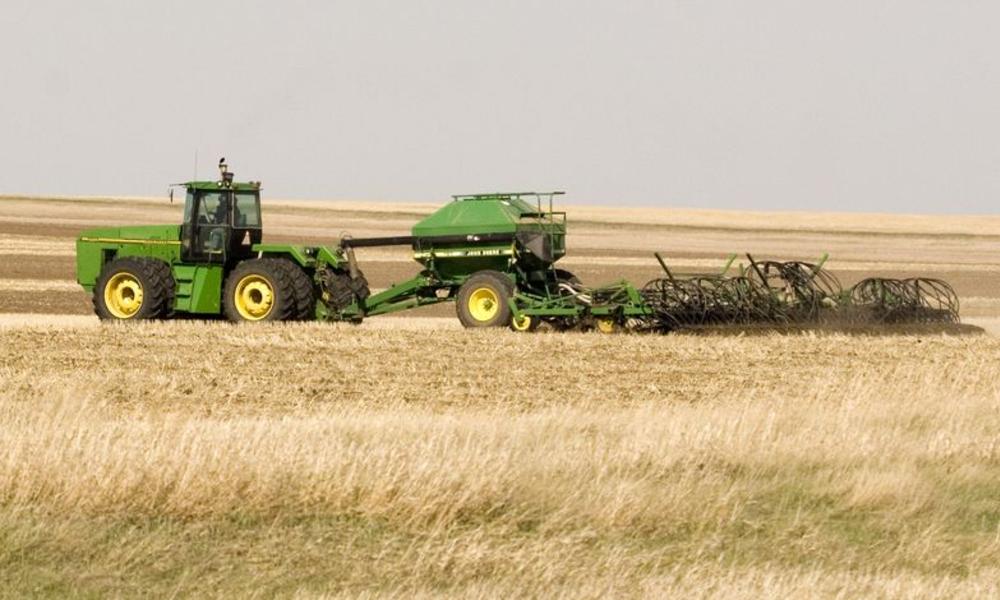 The Northern Great Plains was shaped by change. Seasonal migrations of millions of bison kicking up dust and grass. Frigid winters, high winds and blistering summers. Spring rainstorms, intense dry lightening outbreaks and rampaging rivers or racing wildfires. But now modern changes threaten the wildlife and land in the Northern Great Plains.
Grassland Conversion
Originally the region was a sea of rich grasses, watersheds and wildflowers. Today, demand for agricultural commodities and new, drought resistant bioengineered crops encourage the degradation of native grasslands and drain waterways and watersheds. This plow-up of native grasslands will continue to reshape the landscape and push out wildlife if conservation is not considered.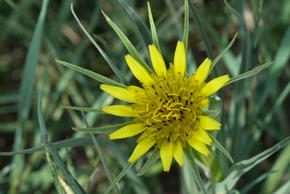 Habitat Fragmentation
From seasonal migrations across state or country boundaries to moving between nesting and feeding grounds, wildlife need the freedom to roam for survival. Development, roads and fences, habitat clearing and invasive plant species restrict wildlife's ability to adapt, move, find mates and food and thrive.
Energy Development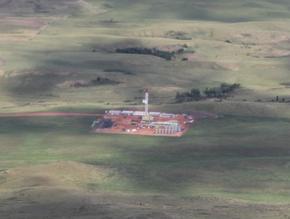 Energy development pressure in the Northern Great Plains comes from both traditional and emerging sources. Oil and gas extraction taps parts of the region that were once believed to be empty of resources. Planners have their sights set as far west as the Rockies. Some of the nation's largest coal reserves exist in the region and wind energy development is happening along the eastern edge. As technology improves, it's assumed that coal development will boom in the region and wind farms will move west.
In the Northern Great Plains, WWF predicts erratic weather will result in more extreme levels of heat, snow and rain, severe floods and droughts. Land managers will need to change how they plan, implement, evaluate and carry forward their land use plans to make ends meet in the face of climate change.
"Right here in America is one of the world's most threatened natural systems. The Northern Great Plains is as important as the Amazon or Arctic, and deserves our attention."

Martha Kauffman Managing Director, Northern Great Plains
What WWF Is Doing
WWF started working in the Northern Great Plains in 2000. Since then we have played an integral role in creating a sustainable future for the region. We achieve lasting results in the conservation and restoration of the region's natural heritage by bringing together local communities, landowners, governments, scientists, conservation experts and industry.
Bringing Bison Home
WWF helped to launch the American Prairie Reserve, an independent, Montana-based land trust focused on creating the largest grassland reserve in North America and restoring bison and other native grassland species at scale. Since the first bison arrived in May 2006, WWF has welcomed more than 200 bison on the American Prairie Reserve. With continued support from WWF, bison will once again have a home in the historic Northern Great Plains.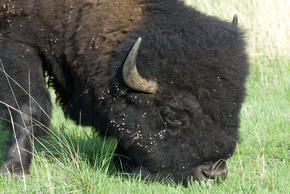 Working with Land Management Agencies
Long-term conservation success in the Northern Great Plains cannot happen without collaboration with community leaders, landowners and wildlife and land management agencies. Since 2010, WWF has been working closely with the U.S. Forest Service and other partners to move prairie dogs away from neighboring ranches. This one-of-a-kind effort relocates prairie dogs to the middle of the grassland where they can thrive and one day support a population of endangered black-footed ferrets. In 2009, WWF worked with Canada's Grasslands National Park to help reintroduce black-footed ferrets to the park. This ferret release marked the return of the endangered species to Canada after a 70-year absence.
Assessing the Health and Threats to the Region
In cooperation with the Northern Great Plains Network, WWF researched and published the 2004 and 2012 editions of Ocean of Grass, a regional biodiversity and threats assessment for the Northern Great Plains. This has become the primary resource for the partnership to guide conservation activities and focus across the Northern Great Plains.
Wildlife migrations depend on natural wildlife corridors—passages that allow regular travel, seasonal migration or population dispersal of different species. Any barriers to this basic need are a threat to healthy wildlife populations. WWF works with businesses, government leaders, public and private land managers, hunters, anglers, farmers and ranchers to ensure wildlife connectivity is a part of all land and wildlife management decisions.