Overview
Habitats

Oceans and freshwater rivers
Dolphins and porpoises delight us with their playful antics and warm our hearts with their friendly faces. Marine species are the most well-known, but there are several species that live in freshwater rivers. All are air-breathing, warm-blooded mammals that nurse their young. The difference between a dolphin and a porpoise has to do with their appearance: dolphins have longer snouts, bigger mouths, more curved dorsal fins, and longer, leaner bodies than porpoises.
WWF's Living Blue Planet Report on the health of the ocean finds that the marine vertebrate population has declined by 49 percent between 1970 and 2012. The report tracks 5,829 populations of 1,234 mammal, bird, reptile, and fish species through a marine living planet index. The evidence, analyzed by researchers at the Zoological Society of London, paints a troubling picture.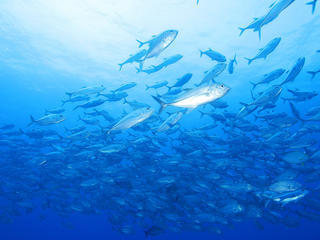 The Dolphins and Porpoises Family
Why They Matter
Dolphins and porpoises are at the top of the food chain and have an important role in the overall balance of the marine environment. They can tell us a lot about the health of the ocean, such as the presence of pollution or the decline in fish. They are also very popular with tourists.