Cities Commit to Prepare for Climate Change
Local governments across the U.S. join WWF's inaugural Earth Hour City Challenge.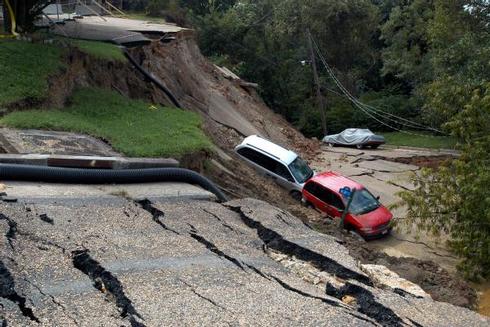 Billion-dollar weather disasters have become all too common in recent years—from crushing heat waves and historic droughts to unprecedented flooding and powerful coastal storms. Our towns and cities are facing the staggering costs of weather driven to extremes by climate change, including power outages, flooded roadways, shuttered businesses and damaged homes.
Even before Superstorm Sandy made landfall, many cities across America understood the risks climate change poses to their community and were taking practical measures to prepare.
Twenty-nine local governments across the U.S. have committed to protect their communities from climate change by joining WWF's inaugural Earth Hour City Challenge. The initiative offers resources for municipalities to assess their vulnerability to climate change and guidance on how to involve residents in preparing for sea level rise and more extreme events such as floods, hurricanes, and drought. The municipalities in the U.S. will also compete for up to $100,000 worth of grants and national recognition as the "The U.S. Earth Hour Capital" for 2013.
Thousands of concerned Americans from almost 2,000 U.S. cities representing all 50 states sent letters to their local leaders urging them take climate change seriously through the Earth Hour City Challenge website. An additional 37 cities in five other countries also are participating in the initiative.
How cities are taking action
Some cities are just beginning to explore how to deal with the health and economic consequences of climate change, while a number of local governments are already taking action. Chicago has paved 55 acres of its alleyways with permeable pavement that allows water from heavy rainfall to seep into the ground. Tucson has a team assessing how to reduce their vulnerability to increased drought, water scarcity and extreme heat. Miami is collaborating with Miami-Dade County to map areas at greatest risk of inundation from sea level rise. Their staff are using these findings to prioritize restoration or retrofitting efforts to help protect key coastal structures.
Jennifer Green, a sustainability coordinator with the City of Burlington is pleased to take part in the City Challenge to highlight her community's climate efforts as well as "draw attention to the fact that we're doing great work." Record rains in 2011, coupled with a tradition of environmental leadership and citizen engagement were the deciding factors that drove Burlington to update its Climate Action Plan and join the Earth Hour City Challenge.
When WWF approached Tucson about launching the Earth Hour City Challenge in March 2012, their sustainability director Leslie Ethen jumped at the chance to engage residents in a conversation about the local risks from climate change. For Ethen, incorporating climate change into city planning was a no-brainer since Tucson will soon face a hotter, drier climate—including an estimated 25 more days a year of 110 degree weather by mid-century. "Climate change is an important issue in Tucson," says Leslie. "The Earth Hour City Challenge is helping our leaders understand that local climate impacts are really something we should be addressing."
The U.S. Earth Hour City Capital and grant awardees will be publicly announced in early spring ahead of WWF's Earth Hour event on March 23.
Learn more about the Earth Hour City Challenge
Meet the challengers and explore our map to see if your city has joined