Belize
8 and 9 days

Multiple departures, January-April
Virtually untouched by tourism, Belize is also one of the world's most diverse nature travel destinations.
Discover wildlife in La Selva Maya, the largest contiguous rain forest north of the Amazon.

Explore spectacular Mayan ruins above and below ground.

Snorkel Belize's 185-mile-long barrier reef—the world's second longest.

The margay is one of many cats you'll see in Cockscomb Basin Jaguar Preserve.

On your safari, keep an eye out for the keel-billed toucan, the national bird of Belize.

Belize's Great Blue Hole was made famous by Cousteau and the Calypso crew, who charted its depths in 1971.
Considering its small size, Belize offers astounding variety: rain forests teeming with wildlife, pristine tropical islands and dramatic Mayan ruins. And along the country's coastline lies the Mesoamerican Reef.
Available Tours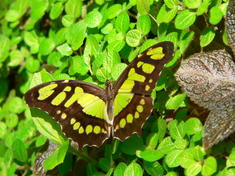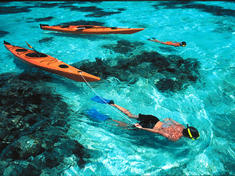 Belize: Multi-Sport Adventure
Explore two of nature's most productive and diverse habitats—the rainforest and coral reef—on an array of exciting activities.
8-day tours from $3,495
Available Extension
Ruins of Tikal Extension 4 days from $2,295
Articles
The Places You'll Go: Gallon Jug Estate
8 Must-Pack Items for a Rain Forest Trip
Top 5 Reasons to Go on an Active Adventure
Below the Surface: WWF Travel's Top 10 Snorkeling Tips
Behind the Lens: Shooting Underwater
Ten Things to Take on Your Snorkeling Adventure
Discovering Our Planet Together
Call (888) 993 – 8687
to book your spot on this tour.
Questions? Email us at
travel@wwfus.org
.
WWF in the Mesoamerican Reef
WWF has been helping to protect this large reef ecosystem since the mid-1980s, initiating efforts to make agriculture sustainable, eliminate destructive fishing practices and promote sustainable tourism. Read more here.
More Upcoming Tours