Best of the Russian Far East
20 days

July 24-August 13, 2013
Look for the whiskered auklet along with numerous other seabird species.

Cruise through the Kuril Islands and see remnants of World War II conflicts alongside native wildlife.

Cruise through the Kuril Islands and see remnants of World War II conflicts alongside native wildlife.

Explorations of Yuzhno-Sakhalinsk include a visit to a Russian Orthodox church.

Photograph the ancient volcanic Kuril Islands, including the 8,000ft Alaid Volcano.
During this expedition to Russia's isolated far eastern region, look for a variety of wildlife, discover ruins from World War II and meet nomadic people. Steller's sea eagles soar along the coastlines and rocky ledges of the Kamchatka Peninsula, hundreds of sea otters and pods of orcas and Minke whales cruise the sea, and Steller's sea lions and northern fur seals crowd the shorelines. Basalt stacks rise from the ocean, tailor-made resting and nesting spots for unimaginable numbers of seabirds—northern fulmars, puffins, guillemots, black-legged kittiwakes and whiskered auklets among them.
Witness huge concentrations of seabirds in a frenzy of breeding activity.
Meet nomadic reindeer herders who have traveled thousands of miles to bring their herds to drink from the sea.
Learn why the Bering Sea is such a priority region for conservation protection.
Can be combined with the Wild Alaska & The Bering Sea expedition.
Caledonian Sky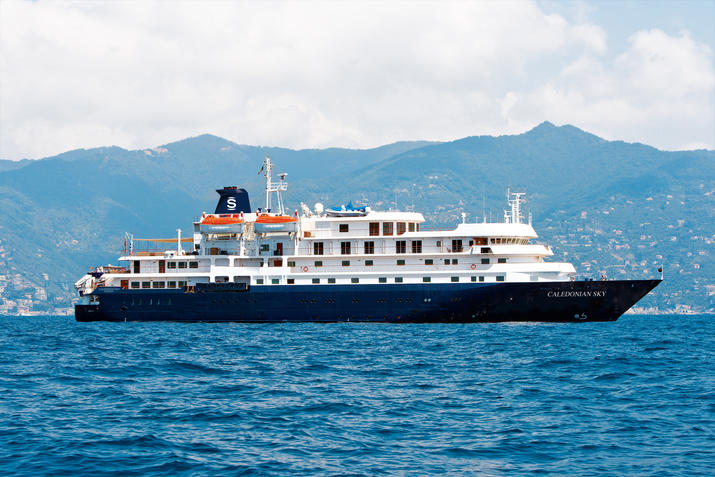 Itinerary
Wednesday, July 24, 2013: Home / Anchorage, Alaska
Arrive in Anchorage and transfer to the hotel. Gather this evening for a briefing and welcome dinner. (D)
Thursday, July 25: Anchorage / Nome / Embark Caledonian Sky
After breakfast transfer to the airport for your morning flight to Nome. (The cost of this flight will be added to your invoice.) Embark the Caledonian Sky this afternoon. (B,L,D)
Friday July 26: Cross International Date Line
En route to Russia, cross the International Date Line, losing a day. (B,L,D)
Saturday, July 27: Provideniya, Russia
Spend the morning on deck watching for seabirds such as short-tailed shearwaters, northern fulmars, Laysan albatross and fork-tailed storm petrels. In the afternoon go ashore in Provideniya, located at the southern limit of the Arctic ice pack, and the commercial port of this sparsely populated region. Tour the regional museum and cruise by Plover Bay. (B,L,D)
Sunday, July 28: At Sea
Lecturers introduce the natural history of the region during a day at sea. (B,L,D)
Monday, July 29: Dezneva Bay / Anastasiya Bay
Board Zodiacs and keep an eye out for the gray whales that are often seen in this area. Step ashore at Dezneva Bay and join naturalists for a hike from the beach to a shallow coastal lagoon where white-fronted bean geese, whooper swans and shore birds nest. Anastasiya Bay is a beachcomber's dream, and walks inland take you through prime habitat for nesting birds. Board Zodiacs to search the nearby coves for walrus haul-outs. (B,L,D
Tuesday & Wednesday, July 30 & 31: Natalia Bay / Glybokaya Bay
Natalia Bay and Glybokaya Bay are both part of a remote nature preserve. Go ashore for nature walks amid a landscape surrounded by conical peaks and jagged cliffs separated by valleys with waterfalls and tumbling streams. Also search for nomadic herders who bring their reindeer to the coast to drink seawater. For thousands of years, reindeer have provided a dependable source of food, hides for clothing and tent coverings, and even sled-driven transport. (B,L,D daily)
Thursday, August 1: Verkhoturova / Ossora, Kamchatka Peninsula
Explore the shores of Verkhoturova by Zodiac, watching for walruses. After lunch, go ashore in Ossora to meet residents dressed in traditional Koryak garments made of reindeer skin and trimmed in embroidery and elaborate beadwork. Choose to visit the museum or take a birding walk. WWF launched an ambitious conservation program to address the challenges facing salmon populations along the Kamchatka Peninsula. (B,L,D)
Friday, August 2: At Sea / Bering Island, Commander Islands
Attend lectures and watch for seabirds and marine mammals as we cruise south. This evening arrive at Commander Bay and make a pilgrimage to Vitus Bering's gravesite to commemorate his voyages. In 1741 he became the first European to discover the coast of Alaska while on a mission for Tsar Peter the Great. Shortly afterward, he was shipwrecked here and died of scurvy. (B,L,D)
Saturday, August 3: Bering Island / Ariy Kamen / Nikolskoye Village
Take a Zodiac ride along the northwest tip of Bering Island to search for northern fur seals and Steller's sea lions hauled out on the shores. After lunch another Zodiac cruise reveals the spectacular wildlife on tiny Ariy Kamen Island, whose mossy-green rocky landscape provides a habitat for vast numbers of birds, including horned and tufted puffins, crested and parakeet auklets, thick-billed murres, red-legged kittiwakes and red-faced cormorants. In the afternoon, visit the village of Nikolskoye. (B,L,D)
Sunday, August 4: Kronotskiy State Biosphere Preserve
Spend the day exploring Kronotskiy State Biosphere Preserve, the largest nature preserve area in Russia. Take nature walks along the coastline and witness the thermal activities the area is known for. Keep an eye out for nesting birds, with a chance to spot Kamchatka brown bears and Steller's sea eagles. (B,L,D)
Monday, August 5: Petropavlovsk
Petropavlovsk is one of the oldest towns in the Russian Far East, founded in 1740 by Vitus Bering. A short drive into the country brings you to the Siberian K9 Kennel for a demonstration of dog mushing. After lunch, return to Petropavlovsk for a city tour. (B,L,D)
Tuesday–Friday, August 6–9: Kuril Islands
The Kuril Archipelago stretches some 700 nautical miles between Kamchatka and Japan. As you cruise among the 56 Kuril islands, your daily schedule of landings are dependent on weather and tides. Activities will include visits to an abandoned Japanese military camp on Shumshu Island, Atlasova Island to see the highest peak of the Kurils and the bird-covered dramatic headlands of Chirpoy Island. (B,L,D daily)
Saturday, August 10: Tyuleniy Island
'Tyuleniy" means "seal" in Russian. The hundreds of northern fur seals and Steller's sea lions that cover the beaches easily explain why the island is so named. Watch bulls defending their harems, males sparring and pups cavorting in the water. Birds fill whatever space the seals and sea lions leave unclaimed. Thousands of common murres and kittiwakes cover the cliffs and fly overhead. Other bird species include crested auklets, Siberian rubythroats and Pallas' warblers, with possible sightings of red-necked stints and narcissus flycatchers. (B,L,D)
Sunday, August 11: Korsakov, Sakhalin Island / Yuzhno-Sakhalinsk
Set off for an overland visit to Sakhalin Island's capital, Yuzhno-Sakhalinsk. Founded as a small Russian settlement in the 1880s, the city became a Japanese prefect capital when the southern half of the island was declared a Japanese colony in 1905; after World War II it was returned to Russia. Highlights of your exploration include a visit to the Russian Orthodox church, the Regional Museum, housed in an impressive former Japanese mansion and the bustling market. Enjoy a performance of traditional Cossack song and dance from a group dressed in colorful costumes. Alternatively, join your ornithologist for a day of birding in the southern part of the island. (B,L,D)
Monday, August 12: Otaru, Japan
Arrive in Otaru and enjoy a tour of the historic and photogenic Canal Zone, including a visit to the Kitaichi Glass Factory. Created by a sea reclamation project in 1914, the canal is lined with the original stone shipping warehouses as well as modern shops and restaurants. Birders set out from Otaru for an exploration of the surrounding foothills to search for special resident species such as Japanese pygmy-woodpeckers as well as migrants such as blue-and-white flycatchers. (B,L,D)
Tuesday, August 13: Otaru / Disembark / Sapporo / U.S.
Disembark and transfer to Sapporo airport for your independent flight homeward. Cross the International Date Line, arriving the same day. (B)
Call (888) 993 – 8687
to book your spot on this tour.
Questions? Email us at
travel@wwfus.org
.
More Upcoming Tours