Indochina Paddling
13 days

Multiple Departures, September & October
Kayak through Vietnam, Laos & Cambodia on this award-winning itinerary.
Explore the Greater Mekong River region, a WWF priority place which former U.S. Secretary of State Clinton described as a miracle.

The rare and endangered Irrawaddy dolphin is native to the Mekong.

Allow your adventurous spirit to roam free as you paddle through the lagoons, caves and rivers of Indochina.
Delight your senses with exquisitely authentic fresh seafood as the sunsets over the Mekong River, breathe in the mountain air as the sun gleaming off of the golden-roofed Buddhist temples warms your flushed face. Hear the songs of a night market in northern Laos, as vendors cry out from their booths, selling fresh vegetables, crafts and warm hand-prepared meals. Glimpse precious wildlife only found in this region such as the Irrawaddy dolphin. It is estimated that fewer than 100 Mekong Irrawaddy dolphins survive in a 118-mile stretch of the Mekong River between Cambodia and Laos.
Available Tour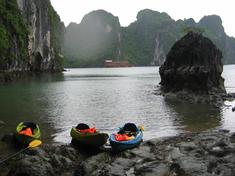 Paddling the Pearls of Indochina
Immerse yourself in Southeast Asia via tropical sea kayaking, flatwater river paddling and rugged overland travel. Sail among the limestone islands of Ha Long Bay on a classic junk, then spend four days paddling the Mekong River and camping near traditional villages. Tour historic Hanoi and explore the cultural treasures and temples of Luang Prabang and Angkor Wat.
13-day tours from $5,995
Articles
Miracle of the Mekong
Top 5 Reasons to Go on an Active Adventure
10 Interesting Facts about Bhutan
China's Other Incredible Wildlife
8 Places to Interact Authentically with Locals
8 Must-Pack Items for a Rain Forest Trip
12 Travel Tips that Are Good for Conservation
Discovering Our Planet Together
Call (888) 993 – 8687
to book your spot on this tour.
Questions? Email us at
travel@wwfus.org
.
WWF in Greater Mekong
WWF works in the Greater Mekong region on a number of priority projects. These include tactics to end all wildlife poaching, addressing climate change by encouraging responsible forestry and agricultural practices and leading efforts to promote the development of sustainable infrastructure. Read more here.
More Upcoming Tours