Komodo Snorkeling Adventure
12 days

July 4-15, 2015 | From $9,020 per person
This snorkeling tour includes multiple daily snorkeling outings, including a visit to one of the top 10 snorkeling sites on the planet.

A sharp-eyed predator and notorious scavenger, the ora (as it is called locally) is the largest lizard species in the world, growing to nearly 10 feet long and 150 pounds.

An expert guide will help you identify the fish and coral species you see on this trip.

the Coral Triangle is one of the most biodiverse marine regions in the world.
Komodo National Park is a place of raw natural beauty. Its islands are home to such exotic animals as the giant carnivorous Komodo dragon, and its crystal-clear waters are home to thriving corals and a variety of fish. WWF's newest snorkeling adventure gives you an opportunity to see both.
Go on daily snorkeling outings in some of the planet's top spots, including one consistently on experts' top 10 lists.
Snorkel in search of electric rays, manta rays and big pelagic species.
Take a guided tour to look for Komodo dragons in the forests of Komodo National Park.
Live aboard a comfortable, small private yacht with just 12 fellow travelers.
Mermaid I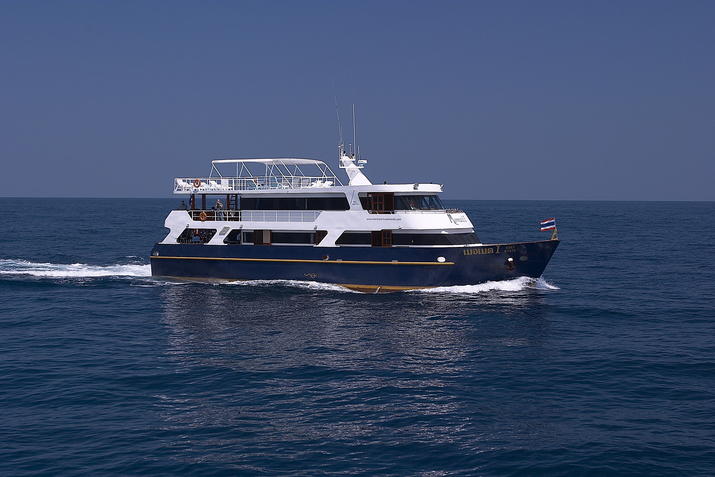 Itinerary
Saturday, July 4, 2015: US / Bali, Indonesia
Depart the United States on the recommended group flight, or independently. You'll cross the International Date Line and "lose" a day, arriving in Bali on Satuday. Transfer to a beach resort in Nusa Dua, where you can spend the remainder of the day at leisure. Gather for a welcome dinner at our hotel. Melia Bali Hotel (D)
Sunday, July 5: Bali / Embark
This morning, an optional tour will be offered of Denpasar City, the Bali National Museum, and the Ulu Watu temple, which is perched high on a cliff overlooking the Indian Ocean; those who wish to enjoy the resort's amenities may opt to do so instead. Return to our hotel by mid-afternoon and enjoy lunch on your own.
Check in at the Mermaid 1 at 4:00pm at Benoa Harbor, Bali. Dinner onboard. Begin cruise to Moyo Island off the west coast of Sumbawa. Lee will give a presentation on the islands of the Lesser Sunda chain and specifically, Komodo Island. Nights aboard ship will be spent anchored in secluded harbors. (B,D)
Monday, July 6: Moyo / Satonda Island
Take your first foray into the diverse waters of the Coral Triangle during snorkeling outings at the reefs surrounding the marine reserve of Moyo and the uninhabited volcanic island of Satonda. Huge sponges, healthy corals and massive schools of such fish as bannerfish and red tooth triggers abound. Frogfish and sharks are usually sighted here as well. Mid-day includes a visit to a local village; keep an eye out for macqaques and such birds as kingfishers and bee-eaters. Just before dinner, observe millions of bats as they come out at sunset. After dinner, we begin our cruise to Saneang Volcano off the north coast of Sumbawa. A lecture on coral reef ecology will be given in the evening. (B,L,D)
Tuesday, July 7: Sangeang Volcano
Rise this morning at Sangeang, an island formed by a perfectly shaped volcano. Although this complex volcano was last active in the 1990s, oftentimes fires along the ridges light up the night sky. Spend the day snorkeling in the nutrient-rich waters, looking out for many of the hundreds of species of marine life found here, including giant trevally, Napoleon wrasse, pipefish and lionfish. Evening lecture on coral reef fish
ecology. (B,L,D)
Wednesday, July 8: Gili Banta / Gili Lawalaut
The area around Gili Banta offers great chances to swim with the big guys. Sharks, mantas and dolphins are regular visitors to the current-bathed waters around Gili Banta. Conditions permitting, hop into the water for stellar chances of viewing big marine species. The ship will sail to the boundaries of Komodo National Park, where you'll again snorkel in search of the big pelagics at spots around Gili Lawalaut. At a nearby snorkeling locale called Crystal Rock, a healthy coverage of soft corals and sponges steal the scene. After dinner, join a lecture that will prepare you for your tomorrow's dramatic encounters with Komodo dragons. (B,L,D)
Thursday, July 9: Horseshoe Bay / Rinca Island
The morning will be dedicated to a hike to spend time with the islands most famous inhabitants, Komodo Dragons! Because this region possesses geology unlike any other place on Earth, the three islands that comprise Komodo National Park have developed endemic species that epitomize nature at its wildest. Chief among them: the famed monitor lizard better known as the Komodo dragon. A sharp-eyed predator and notorious scavenger, the ora (as it's called locally) is the largest lizard species in the world, growing to nearly 10 feet long and 150 pounds. The dragon's unusually massive size is the result of island gigantism, a biological phenomenon in which animals isolated on an island increase dramatically in size. Spend the morning on a park ranger-guided walk into the forests in search of its most famous inhabitants, plus deer, wild pigs, monkeys and birds including yellow-crested cockatoos, doves and terns.
After lunch, head to a spot known as Cannibal Rock, which is often classified among the top places in the world to snorkel and dive. The submerged pinnacle lies in a channel just to the south of Rinca Island and is especially known for its variety of invertebrates, including soft corals and sea cucumbers. Endemic yellow-ribbon sweetlips, gold-striped fusiliers, nudibranchs, scorpion fish, red snappers and surgeon fish abound at this vibrant site. (B,L,D)
Friday, July 10: Horseshoe Bay
Avid birdwatchers and others will enjoy an early hike on the beaches and trails around Horseshoe Bay to catch glimpses of several endemic species. After a late breakfast, jump back in the water at a site called Torpedo Alley to safely go in search of the famous electric ray. Electric rays are capable of producing a charge that stuns prey. Before the discovery of electricity, rays were considered proof of the occult in nature, and fishermen numbed by their electrical currents considered this to be magic at work. (B,L,D)
Saturday, July 11: Manta Alley
At this spot, well over 50 massive manta rays have been spotted at one time. The site offers us a solid chance of spending time with the world's largest ray. In the afternoon, colorful corals and fish greet you at the snorkel sites around Loh Serah and Tatawa Kecil. Depending on the sightings, perhaps we'll opt for more time with the mantas. (B,L,D)
Sunday, July 12: Gili Lawalaut / Gili Darat
Large schools of fish and colorful corals abound in the crystal clear waters. Spend the day in search of false clownfish, golden sweepers, glass fish and others. Look for abundant sea stars in the shallows, schools of small fish nibbling in unison on waving sea grasses and passing hawksbill turtles and reef sharks in the distance. (B,L,D)
Monday, July 13: Satonda / Sumbawa
As the Mermaid 1 heads back toward Bali, stop off at a few sites to visit different sites around Sumbana and Moyo Islands for one final session of sensory overload with the amazing diversity of fish and coral. Spend one last night onboard the yacht. (B,L,D)
Tuesday, July 14: Bali
Disembark after breakfast, and transfer to a beach resort in nearby Nusa Dua. Enjoy a relaxing afternoon at the resort. Reconvene this evening for a farewell dinner. Melia Bali Hotel (B,D)
Wednesday, July 15: Depart
Late this morning you'll be transferred to the airport for your flight home. (B)
Call (888) 993 – 8687
to book your spot on this tour.
Questions? Email us at
travel@wwfus.org
.
More Upcoming Tours