Mongolia: In Search of the Snow Leopard
14 days

Multiple Departures, August
Trek through the western Mongolian countryside on this expeditionary adventure.
Mongolia's stunning, rugged vistas provide every traveler with ample opportunities to come away with striking photos.

Travel with WWF through Mongolia with expert trackers who will improve our chances of seeing a snow leopard.

Travel with WWF experts, conservationists and local nomads on guided hikes and drives as you learn about efforts to sustain threatened wildlife.

View the free roaming Takhi at Mongolia's Hustai National Park, a reserve re-establishing the native Takhi, or Przewalksi horses.

"Snow Leopards are a valuable indicator of environmental health. Their declining numbers is a sign that the places they live are also threatened." -Tariq Aziz, Leader of WWF's Living Himalayas Initiative.
The regal snow leopard has held a place in Buddhist mythology for millennia. Living at high altitudes in an extreme climate, its thick silver coat keeps it warm while its long tail helps steady it as it races down steep mountain slopes in search of prey. Just 2,000 or so remain in the remote high peaks of Central Asia and the Himalayas.
Available Tours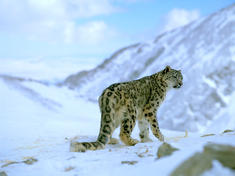 Mongolia: In Search of the Snow Leopard
A new, small-group expedition to search for one of the rarest cats in the world. Itinerary highlights include exploring the Mongolian mountains with a local anti-poaching unit, visiting Gandan Khiid and meeting the WWF Mongolia field office.
14-day tours from $8,695


Articles
New Video of a Rare Snow Leopard
5 Meaningful Ways Eco-Travelers Make a Difference
In the Hall of a Mountain Cat
Pallas's Cats Migrating Upward, Now in Nepal
Discovering Our Planet Together
Call (888) 993 – 8687
to book your spot on this tour.
Questions? Email us at
travel@wwfus.org
.
WWF in Mongolia
WWF works with an increasing number of goat herders to build awareness about the plight of the snow leopard and reduce the killing of snow leopards in retaliation for killing livestock and works to eliminate the illegal trade of snow leopard fur, bones and other body parts. Read more here.
More Upcoming Tours