Morocco
13 days

Multiple departures, April & October
A new nature-focused exploration of the varied ecosystems of North Africa.
Souss Massa's impressive diversity of habitats draw a wide range of species, including the sahara oryx.

Explore Morocco's mountains on foot, following narrow tracks that pass through Berber villages.

Learn about desert ecology as you share mint tea with nomadic camel breeders and stay in a private Sahara camp.

Ocean waves serve as nature's sculptors, carving magnificant formations into the cliffs of Morocco's expansive coastline.
Morocco has long held a mystique for travelers. From ancient kasbahs to bustling open-air souks, the North African kingdom's cultural history is riveting. But so is its natural history.
Available Tour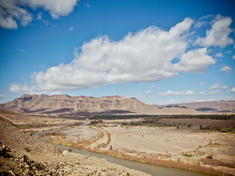 Morocco: A North African Nature Odyssey
Discover another side of Morocco on this nature-focused journey through the most biodiverse nation in North Africa. From the Mediterranean to the Sahara, examine a remarkable array of geographic features: rocky coast and desert dunes, deep gorges and High Atlas peaks, argan forests and palm-fringed lagoons.
12-day tours from $8,995
View Itinerary h
Available Extension
Fes & Ifrane National Park 4 days from $2,495
Articles
The Places You'll Go: Ifrane National Park
Top Shot: Mountainous Dunes of Morocco
Ten Things to Take on Your African Safari
Help Stop Wildlife Crime: How to Buy Environmentally Friendly Souvenirs
12 Travel Tips that Are Good for Conservation
Behind the Lens: Managing Light in the Field
Discovering Our Planet Together
Call (888) 993 – 8687
to book your spot on this tour.
Questions? Email us at
travel@wwfus.org
.
WWF in Morocco
WWF and its partners work in Morocco on community-based conservation, environmental education and ecosystem management because of the variety of habitats fosters a diversity in flora and fauna that's unmatched around the Mediterranean.
More Upcoming Tours