Rwanda Gorilla Safaris
13 Days

Multiple departures, September & October
About a third of the world's approximately 800 remaining mountains gorillas live in Rwanda.
A group of habituated gorillas in Rwanda have become used to visitors and are nonchalant to human presence.

Rwanda's Volcanoes National Park is named for the string of jungle-draped volcanoes inside its borders.

Our Expedition Leader is both a primate naturalist and accomplished photographer who will guide you in photographing chimpanzees and more.
While Rwanda has seen tremendous tragedy, this small country is also a place of immense beauty and continued healing. An important part of its revival is its wildlife ecotourism, centered on the rare and remarkable mountain gorilla that lives in the dense forests of the volcanic Virungas range in the northwest. About a third of the world's approximately 800 remaining mountains gorillas live in Rwanda. Your visit to their natural habitat may be the only hope for their future. A once-in-a-lifetime encounter with the rare mountain gorilla will surely change your life—and it may well save theirs.
Available Tours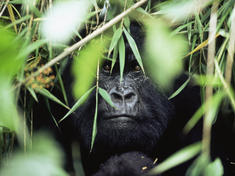 Ultimate Gorilla Photo Safari
On our premier primate adventure, photograph mountain gorillas, chimpanzees and golden monkeys. Itinerary highlights include Kibale, Queen Elizabeth, and Bwindi Impenetrable National Parks.
13-day tours from $10,495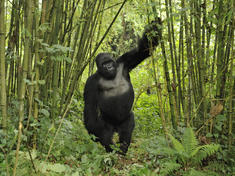 Custom Rwanda Safari
Build your own personalized journey to Rwanda on our tour operator's custom safari planning website.
Dates and prices vary.

Articles
Reviews and Tips for Rwanda
Q-and-A: Mountain Gorilla Trekking
On the Ground with Chimpanzees & Mountain Gorillas
Calling on Mountain Gorillas
Discovering Our Planet Together
Call (888) 993 – 8687
to book your spot on this tour.
Questions? Email us at
travel@wwfus.org
.
WWF in Central Africa
WWF has been at work for more than 40 years to save the mountain gorilla and its forest habitat in Central Africa. A partner in the International Gorilla Conservation Program, WWF helps develop economic activities that allow local people living near protected gorilla habitat to earn income without harming forest resources that the critically endangered gorillas need to survive. Read more here.
More Upcoming Tours