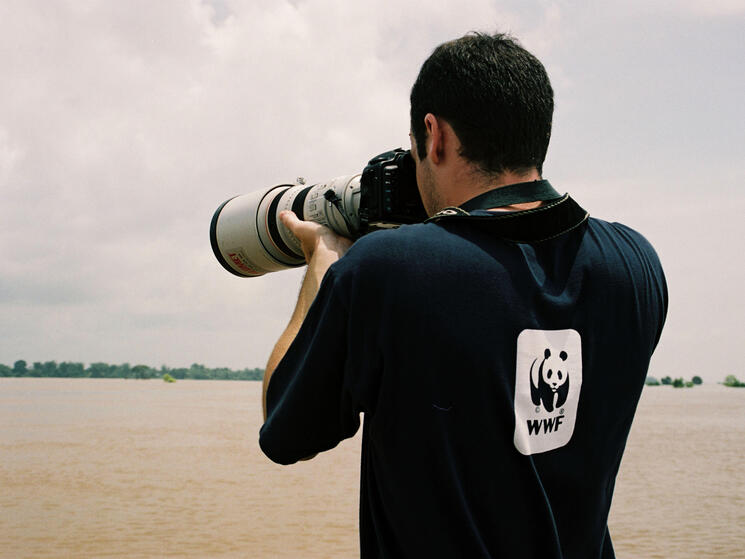 Date

: 16 November 2009

Author

: Elissa Leibowitz Poma, WWF Travel Manager
This is the final installment of our Behind the Lens series.
On a recent cruise through Arctic Svalbard, we encountered a small pod of humpback whales. They were some distance off, and I knew I could never capture the scene with the lens I had. So I put my camera down and just took in the scene.
Under what conditions should travelers do that same thing? We posed the question to WWF's contributing photographers and staff.
"I like to connect personally and emotionally with the great and infinite world and all the beautiful things that exist within it. The only way to do this is to put the camera down for a moment and allow the song of a whale to resonate through your soul, or make eye contact with a predator and feel how fragile life is when you are in its presence. Taking the time for these precious moments gives me a greater appreciation and connection with my subject, which opens my mind to a deeper and more beautiful picture then before."
-Natalia Baechtold, photographer and expedition leader
"While photography can give us a sense of purpose, and almost a reason to seek out wildlife, it can also be a severe distraction from enjoying the moment. I think when the weather is bad or there is not enough light or you don't have the right equipment, there does come a time when you really should put down your camera."
-Martin Harvey, WWF contributing photographer
"In nature photography, I suppose the idea of capturing a landscape, species or natural phenomenon is one of artistic expression and the desire to share that moment with those who could not be there. Is it selfish to put down the camera and not share that? Well, if you cannot get the picture to convey the feeling of that moment as you would if you were watching without the camera, then don't shoot it. Take it in. You might spend too much time trying to get a poor or mediocre shot and miss the view, the sounds, the experience."
-Chris O'Leary, WWF videographer
"When travelling, I find myself sometime torn between trying to document a trip—so taking a shot of those whales, knowing it will be awful—and capturing spectacular photographic moments that tap into my creative side. Then you also need to remember to revel in your travel experiences without looking through your viewfinder. My kids help me do this very well. Lastly, knowing the limitations of what your equipment can do is often half the battle in getting a good photograph. So maybe after soaking in your fill of the experience, you might want to turn your lens onto your fellow shipmates to capture their awe and excitement at seeing these whales. Those photos might end up being a better way to document that experience, too."
-Colby Loucks, WWF Deputy Director, Conservation Science