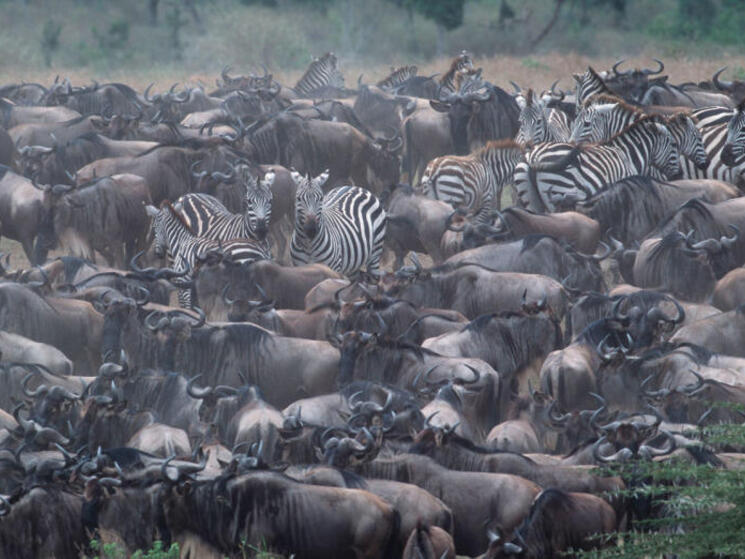 Date

: 22 September 2010

Author

: Elissa Leibowitz Poma, WWF Travel Manager
WWF offers migration-oriented tours to both
Tanzania
and
Kenya
. While wildlife sightings can never be guaranteed, both locales have generally offered thundering masses of wildebeest, zebras racing across the savannah and the drama that unfolds when predator encounters prey.
But which to choose?
During migration season in Tanzania, the massive herds tend to position themselves in the southern plains, where the grasses are tastier, more nutritious and plentiful. Because these grasses are short, the animals can be easier to see.
Wildebeest babies are born in January through March. So, a visit to Tanzania in February may result in seeing many newborns. But they're also easier prey for hungry predators, making the scene more dramatic. For some, that can be heart wrenching to watch.
In Kenya, meanwhile, the draw is the Mara River. While the river flows through both Tanzania and Kenya, the wildebeest tend to cross it in Kenya in the summertime, to escape the dusty plains in search of grasses.
Watching them cross is a breathtaking spectacle – the hesitancy to enter the water, unsure of whether crocodiles or hippos are waiting under the surface, unable to judge how deep the water is. But once a few bold zebras head across, hundreds of zebras and wildebeest will join, oftentimes following one another in a line with a torrent of splashes, barks and calls.
While chances to see the migration across land are strong, getting to see wildebeest cross the river en masse all depends on timing.
In both countries, there is no shortage of The Big Five—lions, elephants, cape buffalo, leopards and black rhinos—and dozens of other species. Travelers will get more than their fill of scintillating wildlife sightings on safaris in either country.
Tanzania has the extra distinction of being home to Ngorongoro Crater. More than 25,000 individual animals—lions, zebras, wildebeest, black rhinos, hippos, gazelles, the list goes on and on—reside in the volcanic caldera. One expert described it like "going to an aquarium with wildlife that is virtually captive." But it also inevitably draws large crowds.
There's a reason that East Africa draws hundreds of thousands of visitors a year. That doesn't mean you necessarily want to see all of those other tourists while you're on safari, though.
Both our Tanzania and Kenya tours get you as off-the-beaten-path as an East African safari will allow, while positioning you in ideal spots to see the migration. We stay at private concessions—such as that can accommodate small groups of travelers—and use mobile or semi-permanent camps.
The Kicheche Bush Camp we use just outside Mara North in Kenya is on private land that strictly limits the number of people on the property.
Accommodating just 12 guests, the region is reserved for your group only. By staying at private concessions such as Kicheche and also the Arumeru Lodge in Arusha, Tanzania, you have the opportunity to do walking safaris—something not normally allowed in the Serengeti or Maasai Mara national parks.
On both trips, you'll also stay at mobile or semi-permanent camps that are positioned in prime wildlife-viewing spots. Each tour allows you to stay at two different such camps. In Tanzania, for example, our mobile tented camp will likely be situated to allow a view of the migration spectacle as well as proximity to the Gol kopjes, an outcropping of granite boulders that's preferred habitat for cheetahs and gazelles.
Whether you chose Tanzania, Kenya, or both, you can travel with WWF.