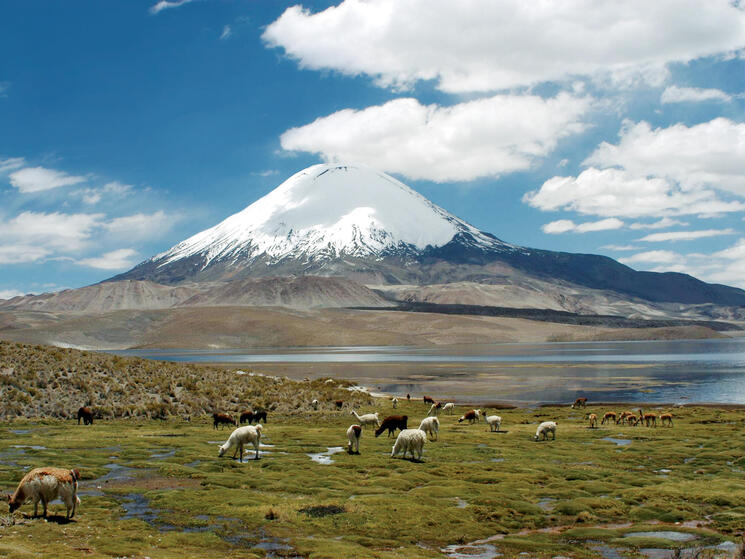 Date

: 12 March 2013

Author

: Maddi Higgins, WWF Travel
Sailing along the west coast of South America provides views of the diverse landscape of South America. No place encapsulates the biodiversity and wonder of South America quite like Lauca National Park.
Where: 14,000 feet above sea level in the Andes on the northern tip of Chile, 90 miles east of Arica

What's there: With over 140 bird species, Lauca is one of the best parks in Chile for bird watching. Wlidlife in Lauca includes the vicuña and the guanaco, relatives of the llama; the viscacha, a chinchilla-like rodent; and the Andean flamingo, one of the rarest flamingos in the word. The park contains several volcanoes that have created a dynamic landscape of lakes, lagoons and lava fields.

Why it's notable: Lauca National Park is a part of the larger Global Biosphere Reserve, a UNESCO-designated site promoting sustainable development and healthy relationships between visitors, the local population and nature. Lauca's climate allows for the growth of abundant plant-life, contributing to the diverse ecosystems Chile houses. About 200 members of the Aymara tribe continue to thrive in the park according to their traditional lifestyle, using the natural resources of the area sustainably.

How you'll get there: The Sea Adventurer will dock in Arica. You will spend a day exploring this quaint port city and continue your journey to Lauca National Park the next day.

Keep your eyes peeled for: Cougars. The Andes are the southernmost edge of the cougar's range and small populations live and roam through the park.