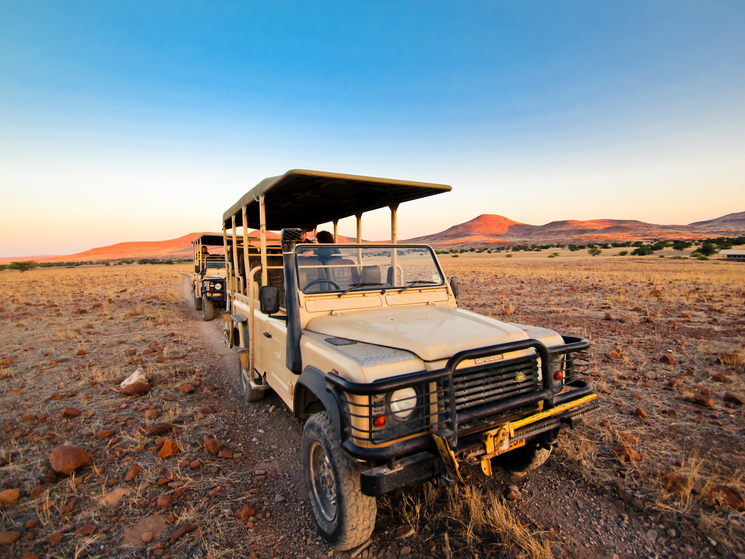 Date

: 22 September 2013

Author

: Elissa Poma, WWF Travel
While visiting the Damaraland region of Namibia, WWF's Elissa Poma joined a researcher and trackers from Save the Rhino Trust to go out in search of endangered black rhinos. Below is an excerpt of her journal from that morning.
4:45 a.m. – A surprisingly chipper man knocks on a wood beam outside my tented cabin at the Desert Rhino Camp, singing "good morning, good morning!" to beckon me from bed. He leaves a Thermos full of hot water by the door, for me to prepare fresh French press coffee. I toss on khakis and a warm fleece – it's surprisingly cold in the desert in the morning. I walk over to the lounge to meet the team from Save the Rhino Trust Namibia. I'm dawdling a little, jealous of my fellow travelers still gloriously tucked into their beds. "Eh, sleep is overrated anyway," I told myself.

5:02 a.m. – After more coffee and a warm muffin, researcher Jeff Muntifering and trackers Martin Nawaseb, Dansieke Ganaseb and Victor Uses and I head out in one truck. I'm in the passenger seat, Jeff is driving and three trackers take the al fresco bench seat retrofitted into the back of the pickup truck. The rest of my fellow travelers will join us later, heading into the desert in a safari vehicle like the one above.

5:37 a.m. – We swung by an area called Zebra Spring, approximately 4 miles from our camp. Black rhinos have been known to frequent this region. One of the guys up top knocks on the roof. Jeff pulls to a sudden halt near a solo tree, grabs his binoculars and hops out, all in one smooth motion. The rest of us sat silent.

5:59 a.m. – There! Tucked into a small tree line alongside a dry riverbed was a black rhino. I couldn't see it at first – even with binoculars, it was hard to make out. I had no frame of reference, as this was my first time seeing a wild rhino.

6:02 a.m. – Then the "eureka!" moment came: that large lump with the slice of sunlight hitting it, that's a rhino! I got chills. In barely a whisper, Jeff beckoned me from the truck. "Keep absolutely quiet. Move slowly. Follow me." We moved slowly and cut across the parched land, keeping downwind of the rhino. We were hundreds of feet away, but Jeff kept an eye out for clues that the rhino noted our presence. It didn't seem to.

Save the Rhino Trust gives each rhino a nickname for identification purposes. This particular rhino is a 23-year-old nicknamed "Don't Worry." Martin recognized him by the notches on his ears and the crack in his horn. Above is a photo of him that Jeff provided to me later, captured at a different time.

6:14 a.m. -- Two trackers walked a good distance away from the rhino in order to radio back to camp and let our guides and my fellow travelers know we had a sighting. The others had planned on a leisurely breakfast and morning hike; now they had to jump up, commando style, and hustle to our site if they wanted to see this rhino.

6:22 a.m. – Jeff stayed back to get some photos of the rhino, since this was a really good sighting.

6:32 a.m. - Martin and I explored the area, finding evidence that this rhino had probably spent the night in the area.

6:37 a.m. -- They also get excited over stuff like this. (Me? A little less excited.)

6:52 a.m. – We recorded the sighting in Save the Rhino Trust's official rhino log book. There's a place to draw the notches in the rhino's ears. Like a whale's fluke or a human's fingerprints, they are unique to individuals.

7:32 a.m. – While we stood watching the rhino graze and mark his territory by frequently spray urinating, my fellow travel companions finally showed up. They parked a good 20 minutes' walk away, downwind of the rhino so he wouldn't detect them. They were instructed to be absolutely silent. It was hard to be anything but quiet watching this scene. The beauty of the sighting took your breath away.

We had a great morning out in the desert, and we were lucky to witness this phenomenal rhino sighting. I felt new appreciation for this fascinating endangered animal.