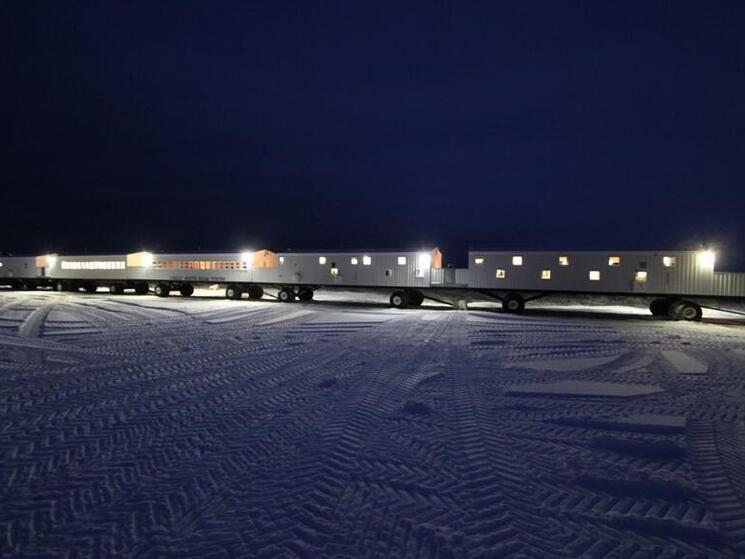 Date

: 21 March 2011

Author

: Elissa Leibowitz Poma, WWF Travel Manager
The next in an occasional series examining the most unusual accommodations on WWF tours.
The air is perfectly still and the sun is setting, painting the sky in watercolor-like pastels. Barely anything can be seen into the distance in all directions, except for snow and ice. Well, except for that hulking male polar bear walking in your direction.
His eyes are fixed on you. The moment causes a shiver up your spine—or maybe that's from the cold. After all, you are standing outdoors, at night, in the northern reaches of Canada, in the fall. Not exactly a balmy day in Miami, but that's not what you've here for, right?
The polar bear approaches the area where you're standing, safely, on a viewing platform of your Tundra Lodge. You certainly know what this massive mammal is capable of, but right now, he's more curious than anything. Standing on his hind feet, he reaches his baseball glove-size paws up on the wall of the Tundra Lodge, sniffing the air around you.
After he gets his visual fill, he ambles off, and you do, too—into the warmth of your well-heated Tundra Lodge, where a steaming mug of hot chocolate and a cozy, warm bed awaits.
One of the most fascinating accommodations in the world, the Tundra Lodge is a moveable hotel that is placed in a spot on the vast tundra outside the famed Canadian outpost of Churchill each autumn. The spot is expertly chosen for a high density of polar bears, with visitors trucked out to the location in specially outfitted tundra vehicles.
Despite the sense of isolation, the facility is remarkably comfortable. The lodge is a lot like a train you'd overnight on: Individual compartments for sleeping, shared restrooms, a lounge and a dining area and outdoor observation decks. You can actually watch polar bears while you dine!
The facilities are basic and comfortable—who wants fussy when you're out in the tundra? Generators and propane furnaces provide lighting and heat, the onboard naturalists are top notch, and you'll be quite surprised how good the food is.
But the polar bears will make the most lasting impression.
"I came face to face with several bears with just the double metal grates (of the fenced observational deck) between us," one guest wrote after his experience at the lodge. "A young bear became my special friend. He kept reaching up and pressing his nose and paws against the bottom grate while I kneeled down and murmured to him. His very expressive eyes seemed to respond to my voice. I took him home with me in my heart."