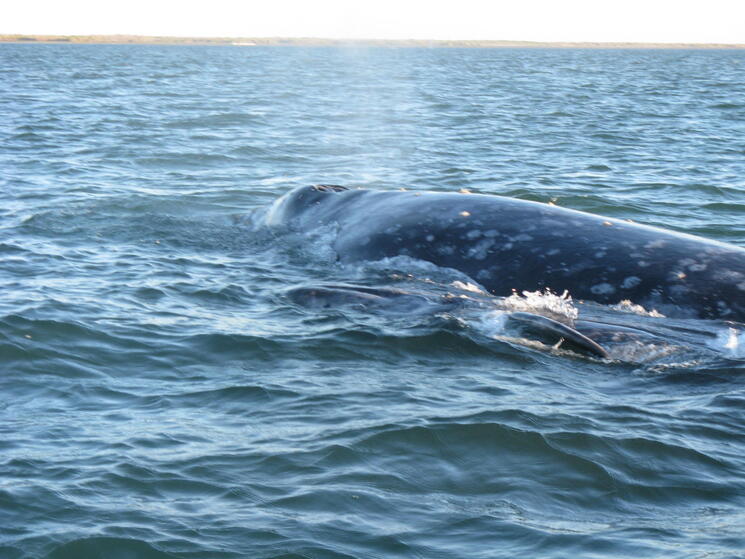 Date

: 23 April 2012

Author

: Jill Schwartz, Director of Program Communications at WWF
We hit the trifecta. After an 18-hour boat ride through the wild waters of the Pacific, we reached Magdalena Bay, Mexico. The water was still. The sky was solid blue. We were told by our guides that dozens of gray whales, each just a few weeks old, were in this part of the bay and at the stage of their life when they wanted to do what all children want to do: play. It was the perfect set-up for whale watching.

An unforgettable experience
I left our small cruise ship and boarded a heavy-duty raft with eight others. It wasn't long before we saw the dark flesh of a gray whale—one of the world's most iconic species. Just 50 feet from our boat, the whale breached. Nobody on my boat had ever been that close to a whale. This time of year, it would be difficult to get much closer, as the mother whales (cows) were still very protective of their babies (calves).
Then just minutes later, the cow and her calf slowly danced through the water, coming within mere inches of us. We watched—mainly through our camera lenses—what seemed to be their morning ritual. Despite her enormity (four tons), the cow delicately broke the surface, fiercely blowing water through her spout. A few seconds later, her calf did the same, a bit more clumsily, and then emerged again to roll over her mother. A true sign of love.
Soon the whales were swimming and playing under, around and alongside our boats. For nearly 30 minutes, my fellow travelers giggled and screeched as they experienced these amazing animals. Despite the fact that the whale was far superior to me in weight and strength, I was giddy, not fearful.
"Why are they coming so close?" I asked Sharon, a naturalist on our trip.
"Because they trust us," she said.
And it was in this beautiful, once-in-a-lifetime moment, that I started to feel very sad.
A safe haven at risk
If these whales trusted us enough to come that close, how could we betray them? The cold waters of Alaska—to which they were heading for the summer—are under threat. The three-month journey the whales have taken from Baja to Beaufort, Alaska, for hundreds of years has always ended in healthy waters.
That tradition may end soon. Shell Oil Company plans to break ground in Alaska's Chukchi Sea this summer. This action—if allowed by the federal government—would likely open America's Arctic up to oil and gas drilling by dozens of other companies.
Science tells us that exploring and drilling for oil in Alaska would be disastrous to the region's whales and other wildlife, dirtying the water and bringing noise pollution that threatens the survival of many species. And science confirms that marine life thrives when industries are kept out of the water, including in Mexico.
We should trust that science. Much like whales trusted us on a sunny January day in Baja California.