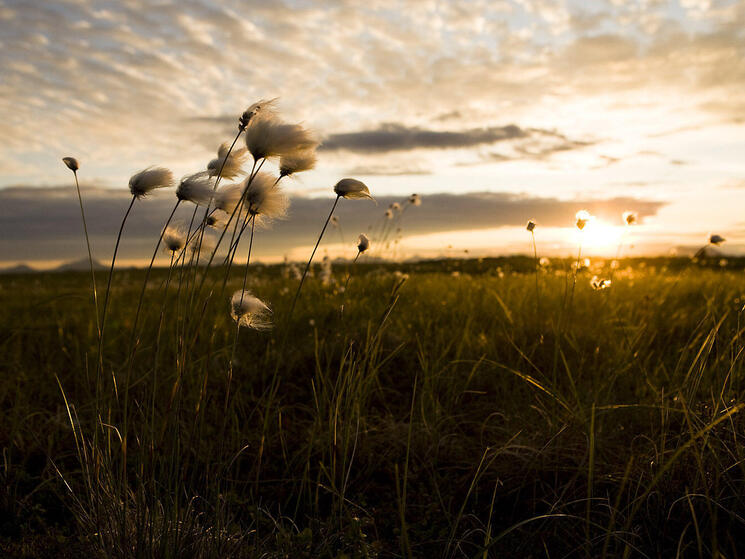 Date

: 18 June 2013

Author

: Jon Hoekstra
The Arctic is an extraordinary and iconic place where wildlife is still abundant and ecosystems are still intact. Caribou herds migrate across vast tundra. Millions of seabirds nest on remote rocky islands. Walrus, narwhal and other marine mammals swim the seas. And polar bears hunt seals on the ice.
The Arctic is also a treasure chest of natural resources—resources that have globally significant economic and social value. In addition to petroleum, there are precious metals, rare earth minerals and other ores. Northern shipping routes could cut the distance—and cost and carbon emissions—between Asian and European ports by 30%. And there are lots of fish to feed a hungry world. Alaska's fisheries produce more than half of all seafood harvested in the U.S.
This natural abundance stands out in a world of increasing scarcity. As sea ice retreats in a warming climate, more and more people are rushing in to develop those natural resources.
It's easy to caricature that development as being fundamentally in conflict with environmental protection. But it's not an "either-or" proposition. The economic and ecological futures of the Arctic depend on one another. They will rise—or fall—together.
The key to coupling Arctic development and environmental protection is to invest in building up the Arctic's natural capital, not liquidating it.
By "natural capital," I mean our lands, waters, and the biodiversity they support.
Like other forms of capital, natural capital can be used to produce valuable goods and services. For instance, the river running past a community might produce drinking water, transportation, and fish. And like other forms of real capital, it needs to be maintained in order to keep up or even increase that productivity.
In the Arctic, robust populations of fish yield healthy and traditional food for rural communities. Wildlife—along with majestic mountains, fjords, glaciers and forests—draws people from all over the world to the region. According to the Alaska Department of Labor, tourism and recreation supports nearly 30,000 jobs, nearly as many as the oil, gas and mining sectors combined.
Clear wild rivers are the world's best salmon hatcheries, spawning fisheries that employ thousands and are worth billions. Alaska's Bristol Bay supports the world's largest sockeye salmon fishery, and generates as much as $5 billion in economic activity every year.
At the same time, according to WWF's most recent Living Planet Report, people are demanding 1.5 times more natural resources than the earth can produce each year. And that demand will only increase as the human population grows.
This means we will need more, not less, from nature—more fish, more food, more forest products, more energy, more clean and reliable water supplies. Our ability to meet the demand will depend on how well we maintain the natural capital that supplies it. That is why natural capital is so vital, and why it must be invested in instead of cashed in.
So here is the big question for sustainable development in the Arctic—how will we preserve the natural capital we will need to supply future demand? This is not just a conservation question. It is an economic development question.
Economic development must invest in preserving and even enhancing the natural capital that produces so much value for the region and for the world. In the Arctic, we have a chance to get right what so many other places got wrong.