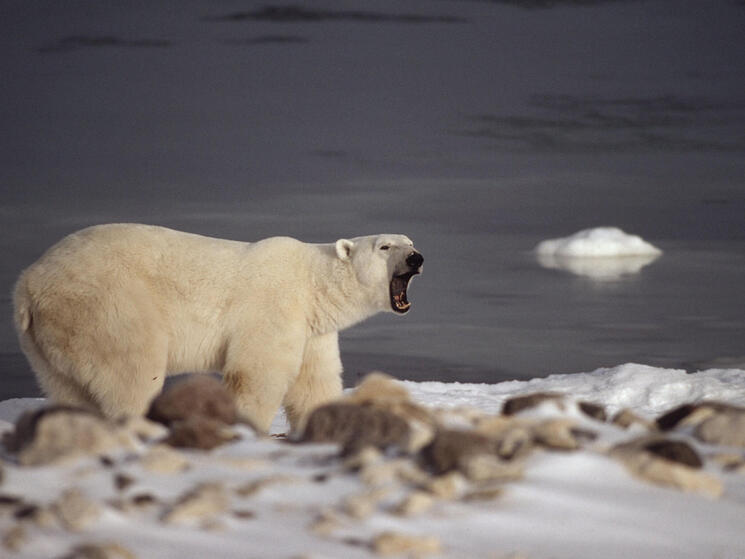 Date

: 19 November 2013

Author

: Jon Hoekstra
I recently traveled to Churchill, Manitoba—known as the polar bear capital of the world. It's a great place to observe polar bears in late autumn because the normally solitary predators gather along the shore, waiting for Hudson Bay to freeze over so that they can head out on the ice to hunt seals.
Much of the conversation with fellow travelers was about climate change, and how it is threatening many polar bear populations, including the one around Churchill. Arctic sea ice is diminishing as temperatures rise and polar bears are spending more and more time on land.
On our last morning in town, we got a first-hand lesson in another threat facing polar bears—increasing contact with people.
Around 5am, a young woman was attacked by a polar bear while walking to work. A local resident heard the woman's screams and ran outside to help. Consequently, the bear turned on him. In response to the attacks, two bears were killed—the male responsible for the attacks and a female who was simply in the wrong place at the wrong time. Unfortunately, the female also had a cub that was not visible when she was shot. The cub was taken into captivity and is being placed into the International Polar Bear Conservation Center facility, in Winnipeg.
This was a tragic and dangerous incident. Thankfully, the two people are recovering well from the injuries, and local residents along with the Polar Bear Alert Program (run for many years now by the Govt. of Manitoba) were able to respond quickly.
Even though polar bears regularly wander through town during this time of year, this was not a normal incident in Churchill, One other attack occurred a month prior but that was the first since 2008. Residents and tourists alike were shaken up. They were concerned about the two people who were injured, upset about the bears that were killed, and questioning what could have been done to prevent it.
I found some optimism after breakfast when I had a chance to meet a dogsledder from a nearby community. With the bear attack fresh in mind, I wondered if bears were a threat to his dogs. He hadn't personally lost any dogs to polar bears, but he described several times when bears knocked down his dog yard fence. A polar bear even slept next to one of the doghouses.
The dogsledder then remarked on how much he and other dog mushers appreciated WWF's assistance to acquire buffalo fencing that bears couldn't knock down and food storage containers that bears couldn't break into. I hadn't yet told him that I worked for WWF, so it felt like a genuine endorsement for WWF's conservation work in the region.
Fencing, bear-proof containers, local polar bear patrols and warning plans for when bears enter town are all part of efforts, from WWF and local governments and residents, to reduce conflict between polar bears and people. As the bears come in contact with communities more frequently, these efforts will have to increase and more solutions found.
Tomorrow, I'll talk more about a moment from my trip that gave me great hope for the future of polar bears in the region and an innovative solution to the problem of human-polar bear conflict.