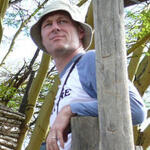 Date

: 14 May 2013

Author

: Jon Hoekstra
Welcome to my Conservation Science blog.
My name is Jon Hoekstra. I am the Chief Scientist for World Wildlife Fund.
Conservation and science are big broad fields, so this blog will be wide-ranging.
As a reader, you can expect an eclectic mix of news, reviews and opinion about nature, conservation, science and the environment. Postings will include:
• Commentary on environmental news
• Reviews of important or interesting scientific publications
• Essays about trends and emerging issues in conservation
• Exciting and amusing stories about nature
• Other stuff that catches my attention
I will frequently write about topics that are a big part of WWF's work such as quantifying the value of nature, evaluating the impact of conservation on people and nature, and adapting to climate change. I will also scan the horizon for fresh ideas and emergent issues that could become important for conservation.
Continue reading