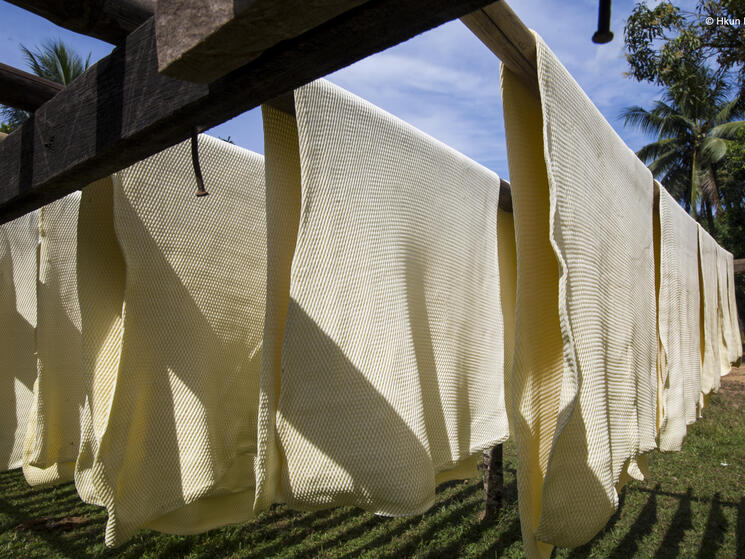 Date

: 14 December 2017

Author

: Kerry Cesareo, Vice President, Forests,
On the surface, the production of natural rubber is as simple as the incision made in a rubber tree. The cut, made on an angle, is shallow and just inches long. A milky white liquid oozes from where the incision was made and slowly drips into a coconut shell attached to the tree. Once there is enough liquid to fill a large bucket, several straightforward steps are taken to turn the liquid into small sheets of rubber which are used to create hundreds of distinct types of products.
I was fascinated with the somewhat primitive nature of the process when I saw it in action in Myanmar a few weeks ago—as it juxtaposes the complex nature of the global rubber industry, which is growing quickly to keep up with the demand from people in the US and beyond for rubber products.
Natural rubber is used to make the tires that are on the cars or bicycles we use to get to work, planes and buses that take us to vacation destinations, and trucks that bring food to the stores where we shop. It's what makes a soccer ball a soccer ball. It's on doctor's hands, when she wears surgical gloves, and on our feet, when we wear sneakers to go for a run.
And, yes, it comes from trees—something that most people don't know, and I hadn't thought about much until recently, despite many years working on forest conservation.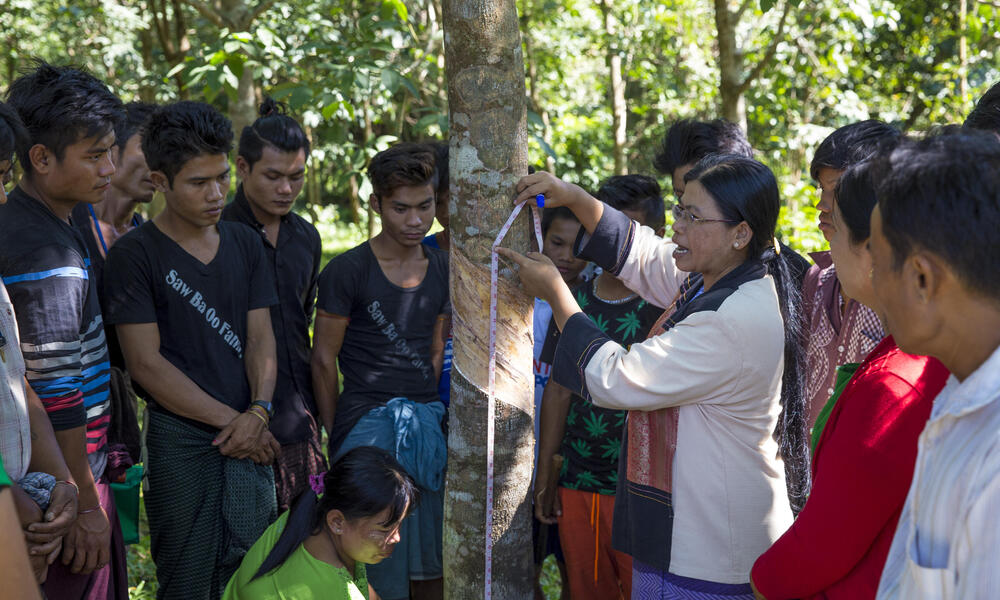 Rubber is an industry that will grow, in large part to keep up with the expected doubling of vehicles by 2050 (70 percent of the world's natural rubber is used to make tires). But ensuring that the industry does so without having a negative impact on nature and people is a challenge. Already, unsustainable and illegal natural rubber production has emerged as a top threat to many forests of Southeast Asia, where climate and soils for growing rubber trees are ideal. Ninety percent of the world's natural rubber comes from this region. The same forests that are habitat for elephants, tigers and other endangered species are being destroyed to make room for rubber trees.
Natural rubber production also is a grave concern for people in the region, as the industry is plagued by land grabs and poor treatment of its workers. And forests cleared to plant rubber are the source of livelihoods for millions of people.
It is a challenge, though, that a diverse group of actors from the public and private sectors, including World Wildlife Fund (WWF), are now rallying around so solutions can be put in place before it is too late. We have the advantage of learning from our work on palm oil, paper and other commodities. Sustainability standards for those commodities have been developed and producers are working to meet them.
A key lesson is to, from the get go, include farmers in the process of creating industry guidelines. This is particularly important in the rubber industry, as 85 percent of natural rubber is produced by approximately six million farmers, most who are operating at a small scale. They are on the front lines, where the challenges related to farming are most evident, as are the solutions.
While in southern Myanmar—where a significant growth in rubber production is expected—my colleagues and I sat cross legged on a wooden floor as rubber farmers from a small village talked to us for several hours about their desire to protect the environment by planting rubber trees on degraded land instead of on land they clear in forests that have high conservation value, yet how hard it is to do so. They spoke about wanting to diversify their source of income to protect against volatility of rubber price. We listened, then talked collectively about solutions they are putting in place on their own and are eager to implement with help from WWF, the government of Myanmar, rubber industry leaders and others.
Just as important as engaging with small-scale farmers is engaging with leaders at large-scale companies. Companies that make tires are key, as they buy 70 percent of the world's rubber and, therefore, have the financial power to influence production. Automobile makers also are key; a single company often buys 50 million new tires every year. These companies are critical to transforming the way rubber is produced.
Three of them already are doing so. In 2016, Michelin became the world's first major rubber user to publish a comprehensive policy to ensure sustainable and responsible management of the natural rubber supply chain. Pirelli followed suit this year. Also this year, General Motors announced its intent to commit to sourcing sustainable natural rubber. Other companies are gearing up to do the same, thinking of creating policies that, among other things, prohibit destroying natural forests and infringing on human rights.
We are encouraged by what we are hearing—from the small villages of Myanmar to the large meeting rooms of corporate headquarters—and are hopeful it will quickly lead to a major transformation of the rubber industry. The role of NGOs and others within civil society in making this happen cannot be understated, as they provide perspective and technical expertise on conservation and social issues to ensure credibility and impact.
Stepping away from business as usual in the rubber sector would have a dramatic, positive effect on the world's forests and local communities. It's time to do so.