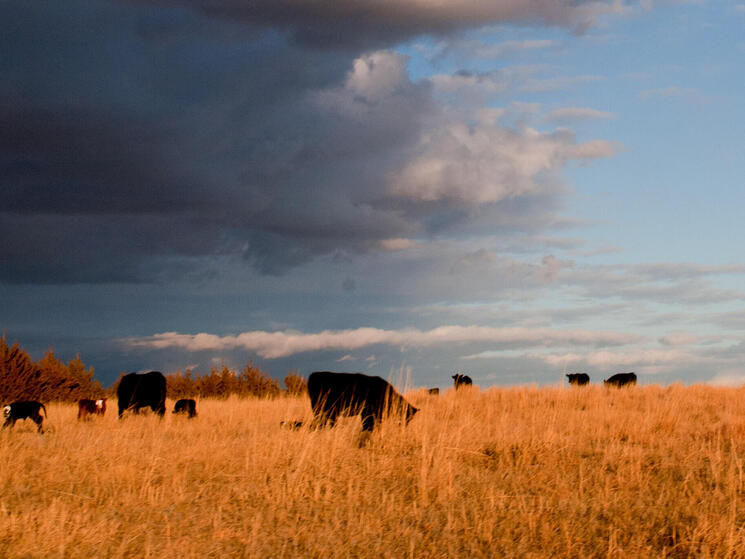 Date

: 01 June 2016

Author

: Tim Hardman
Canadian ranchers have taken an important step to strengthen their country's beef supply chain and to protect grasslands. They joined with beef producers and processors to participate in McDonald's first-of-its-kind program to promote production practices that are more environmentally, socially, and economically sustainable.
This is critical because beef production has both positive and negative environmental impacts. On the one hand, it takes more land, water, and energy to produce one pound of beef than a pound of poultry, pork, or even soy. On the other hand, unlike chickens and pigs, cattle can turn inedible grass into edible protein and help maintain grasslands in the process.
As the world's population and incomes grow, the global demand for beef will increase. To help blunt the environmental impact of this trend, WWF joined with McDonald's, Cargill, National Wildlife Federation, The Nature Conservancy, ranchers, and other stakeholders to build the Global Roundtable for Sustainable Beef and several national roundtables. These efforts are aimed at minimizing greenhouse gas emissions, protecting native forests, grasslands, and other areas with high conservation value, efficiently managing water use and quality, promoting soil health, and protecting biodiversity—all while maintaining social and economic viability.
With support from its suppliers, McDonald's took a pioneering step toward these goals by launching its Verified Sustainable Beef pilot program in Canada in 2014. As the company announced on June 1, more than 182 operations in Canada—121 ranches, 58 stockyards and feedlots, two beef processors, and one patty plant—completed a third-party process to verify the sustainability indicators developed through the pilot to use water efficiently and reduce pollution, to promote soil health, and to preserve biodiversity, among others. The simple act of verification encourages producers to pause their hectic day-to-day lives and consider the impacts of their work and ways to conserve natural resources, which can yield environmental and operational efficiencies alike. And by making the program outcome-based as opposed to practice-based, it gives ranchers, stockyards, and processors the freedom to innovate.
McDonald's efforts will inform efforts to verify sustainable beef production in Canada, as well as the U.S. and Brazil where national roundtables have been established that translate the principles and criteria of the Global Roundtable for Sustainable Beef into indicators that ranchers, producers, and processors can use to continuously improve their practices. This is the first time that beef industry stakeholders all along the supply chain have collaborated on a sustainability program that delivered products to market. It demonstrates that when buyers and suppliers are rowing in the same direction, it builds momentum.
This is just the beginning and there's a long way to go. Two of the biggest contributors to beef's ecological footprint are greenhouse gas emissions from feed production and from the cattle themselves. Measuring, monitoring, and verifying improvement on these fronts, however, is particularly complicated and challenging relative to other environmental indicators. The Canadian Roundtable for Sustainable Crops is working on indicators that farmers and processors can use to measure and reduce impacts of feed production. WWF is working with McDonald's and the Canadian Roundtable and its counterparts in the U.S. and Brazil to develop indicators that address the cattle's own emissions.
When they are well-managed, cattle can help sustain grasslands and native habitat that support diversity of birds and other species, reduce erosion and run-off, and sequester carbon in the soil, partially offsetting overall greenhouse gas emissions. Ranching can be an especially valuable tool in grasslands that are unfit for crop production, such as in the Northern Great Plains of the U.S. and Canada.
WWF's mission is to conserve nature and reduce the most pressing threats to the diversity of life on Earth. Food production is critical to human survival, yet it also represents one of our greatest threats—especially as our population and incomes grow. Companies like McDonald's have outsized influence to reduce the negative impacts that food has on our planet. The company's initiative demonstrates a commitment to improvement, and we're eager to take more steps with them and others on this journey to sustainability.