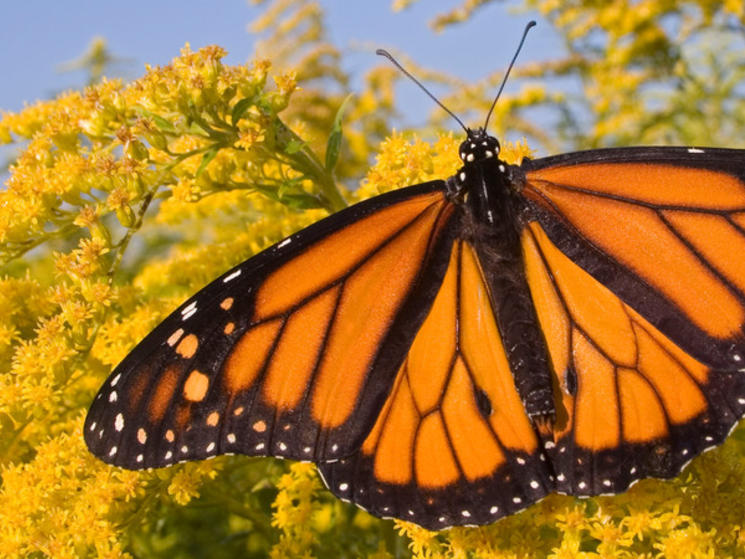 Monarch butterflies embark on a marvelous migratory journey. Annually, they travel nearly 3,000 miles from the United States and Canada to their hibernation grounds in Mexico. These travelers arrive at the beginning of November and stay for five months at the Oyamel Fir forest of central Mexico before they migrate back North. Sadly, each year fewer monarchs make that journey as their population has drastically decreased due to climate change and depletion of milkweed along their migratory route, which is the only plant where monarch butterflies lay their eggs.
The latest survey of the monarch's winter habitat in Mexico is a stark reminder that this species is in need of protection. The number of monarch butterflies that spent the winter in forests in Mexico fell for a second straight year, according to the survey conducted every winter at the Monarch Butterfly Biosphere Reserve.
WWF and our partners on the ground in Mexico are working to reverse this trend. Together, we are committed to protecting vital monarch butterfly habitat by countering illegal logging efforts, working with local communities and authorities on sustainable forest management, providing training for sustainable tourism, and leading sustainable projects such as tree nurseries that help restore butterfly forest and mushroom production. These measures have also helped to provide additional income to local communities that share the forest with the monarch butterflies.
As part of our efforts to save the monarch butterfly, WWF and world-renowned chef José Andrés are joining forces for the second year in a row to raise awareness and funds for these butterflies. During June 18 – 24, José Andrés' DC-based restaurant, Oyamel, will feature special dishes inspired by the region in Mexico where migratory monarch butterflies overwinter. As part of the initiative, Oyamel will donate a portion of proceeds from a special Monarch Week menu to support WWF's work to protect the monarch butterflies. A selection of items from the menu for Monarch Week include:
Mojito Sandía - Mint-charged rum, lime, watermelon
Ensalada de Farro- Anson Mills farro salad with a cucumber pipián, pea shoots, peas, green beans, spiced pumpkin seeds and queso fresco
Buñuelo - Crispy fried butterfly cookie, piloncillo, candied pumpkin seeds, orange granita and vanilla ice cream
"During my many visits to Mexico to learn more about its regional cuisines, I heard about the beautiful forest in Central Mexico filled with Oyamel fir trees, where hundreds of millions of monarch butterflies journey every year. I am captivated by this amazing creature, but I also know that it faces an uphill battle for survival. That is why I am proud to participate with my Mexican restaurant Oyamel in Monarch Butterfly Week. We will be partnering with WWF's Monarch Squad to support the vital work of WWF as they rally 1 million supporters to come together and help save the migratory monarch butterfly."

José Andrés
In addition to Monarch Week at Oyamel, Chef Andrés acts as WWF's Monarch Squad Champion by raising awareness about this species and encouraging fans to do their part to protect this migratory miracle. In the US, WWF has set a bold goal of getting one million supporters to join the Monarch Squad, to help save the monarch habitat by reducing habitat conversion and the use of herbicides along its migratory route in the US. Join José Andrés and learn more about WWF's Monarch Squad here.