Date

: 26 June 2013

Author

: Nick Conger
The world has never seen economic growth at a rate currently happening in China. Having surpassed Japan in 2011, it's quickly become the world's second largest economy and its GDP continues to expand (though ebbing in recent years).
I'm just back from a 10-day visit to China and can attest to this growth. Industrial cranes fill the skylines from Beijing to Dalian to Wuhan, construction vehicles clog traffic patterns, pollution billows into the air. So much that China is responsible for a quarter of the world's greenhouse gas emissions.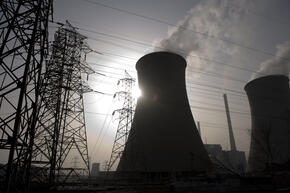 This is not lost on the Chinese government intent on being a world superpower and the responsibilities that come with it. Last week, it enacted a pilot cap-and-trade program in seven cities, covering up to seven percent of the country's GHG emissions. That's about 864 million tons of carbon dioxide by 2015, about the total emitted by Germany each year, according to Bloomberg New Energy Finance.
But it's the pollution's impact on food and water that has the attention of Chinese citizens and businesses, and may prove to be the strongest catalyst for action. Last week was National Food Safety Week in China, a national effort to raise awareness to the growing threat of contaminated food. At a food safety forum, Vice-Premier Wang Yang spoke of the need to create a system for the public to report unsafe and unhealthy food. He also pointed to better enforcement, modern technology to trace food along the supply chain and better coordination among government agencies to combat the problem.
With the government calling for action, and consumers and businesses tapped in, the country is ripe for change. World Wildlife Fund, like a variety of peer NGOs, has an increasingly valuable role to play in advancing food safety as it pursues environmental sustainability. Indeed, there is significant overlap between our efforts to protect endangered species and biodiversity in the face of industrial growth, and the need to ensure safe and healthy food and water to Chinese consumers.
One approach is through environmental certifications. As companies pursue certification standards, they are ensuring the product is not just grown and produced sustainably, but also devoid of contaminants. Touring local fisheries, I learned that leading eco-labels like MSC and ASC are absent from the Chinese market. So WWF recently paired up with the China Chain Store & Franchise Association to launch the Sustainable Retail Roundtable, currently comprised of 11 retailers (Walmart, IKEA and P&G among them), to explore ways to reduce the impacts of production, incent clean energy production and eventually drive uptake of certifications.
The idea of major retailers sharing lessons, practices and strategies with one another is an increasing trend in the West, but still a novelty in the East. At a Roundtable meeting last week in Dalian, this was happening. Each company representative talked about how pursuing sustainability can help them provide safe and healthy food products to customers. Food safety and sustainability have become mutually reinforcing goals.
Meanwhile, China is increasingly dependent on imports of grains, oilseeds and meat and has become the world's second largest importer of goods overall. A reliance on other countries to feed its people limits long term growth and prosperity. It's time to find solutions to reform the Chinese food system and protect the environment, building on the recent momentum for food safety.
Those that have a stake in China's sustainable growth – environmental NGOs, businesses seeking to tap into a growing middle class, investors – should consider solutions to achieve food safety as a means to achieve this objective. As we've seen in the industrial sector, if supported and advanced by the government – and every indication is that it will be – progress can happen, quickly.