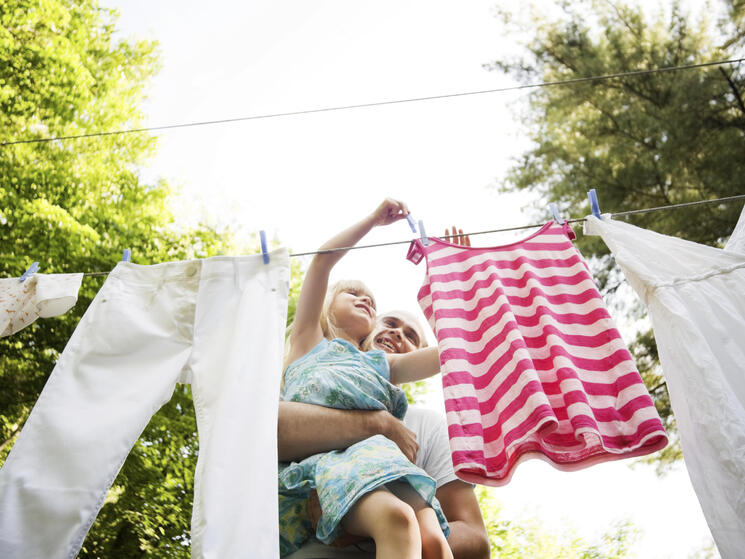 Date

: 22 March 2016

Author

: Lindsay Bass, Manager, Corporate Water Stewardship, WWF
When I talk to friends and family members about saving water, the first thing I often hear is, "like take shorter showers or turn the water off when brushing my teeth?" Sure, those are good habits to get into, but let's be honest: that alone will not solve our water crisis. We need to think about how much water is needed to produce literally everything around you. I realize how overwhelming that is, so let's start with what's literally on you – perhaps a pair of jeans.
From growing the cotton to producing the fabric to washing your denim, jeans require water—lots of it. Producing textiles is an ancient art, but it can also be a water-intensive and polluting industry. As consumer demand grows and the pressure on natural resources increases, minimizing the impact of textiles is becoming even more important.
Water is the ultimate shared resource and we can only manage it sustainably if all water users in a river basin work together. Businesses, every level of government, and local communities must collaborate to ensure water is responsibly governed and shared. To leverage the relative nimbleness and influence of the private sector, we challenge businesses to become water stewards—to go beyond water efficiency practices and rethink entire business models and practices.
Some of today's biggest brands are working hard to bring the entire value chain into the 21st century and onto a sustainable trajectory. These companies are implementing comprehensive water stewardship programs that extend innovative thinking beyond the brand into basins in ways that is good for the environment, society and business.
For a case study, take Levi Strauss & Co. In 1873 they invented the blue jean and in 2015 they became the first company in the apparel industry to establish global supplier guidelines for water quality standards and developed the first Water Recycling/Reuse Standard. They also came up with a way to use less water to produce their core products and are now sharing this technology with other apparel companies.
The company recently announced that their core products reduce the use of water in the finishing process by up to 96 percent for some denim styles. The company has already made more than 100 million of these products and saved over 1 billion liters of water.
Recently, the company brought together more than 20 apparel brands (what some may view as competitors) to accelerate innovation by sharing best practices and technologies and encouraging an open and cooperative dialogue to identify collaborative solutions that will benefit water resources. Check out the event notes from that dialogue to learn more.
While the apparel industry has experienced success in working together through the Better Cotton Initiative and Sustainable Apparel Coalition, participants acknowledged there is much more for their industry to do.
Addressing manufacturing in key places or even at the industry level won't solve inherent water risks. The sector must look to 2030 and the United Nations' Sustainable Development Goals, and pivot to include the public sector and government in innovations and risk response.
As someone who works with companies like Levi Strauss & Co. and promotes private sector partnerships to conserve water resources, the collaborative and productive meeting of so many apparel brands left me encouraged and somewhat excited. Corporations are not only grasping the magnitude of our water challenges and embracing water stewardship programs but are also talking to one another to understand how they can elevate their impact through cross-sector collaboration. Next step is identifying where that impact will be.
Water problems of today require sectors to be collaborative, smart and strategic—competition is out and collective action is in. Improving our planet will always be on trend.