Making sustainability a priority, the Marshik Dairy -- a fifth-generation family farm -- implemented a new, technologically advanced and energy efficient barn design on their 155-cow dairy. The new design included robotic milking facilities, energy efficient lighting and ventilation, and renewable wind and solar power.
Best Practices
Dean Marshik and Clare Palmquist installed a robotic milking and system barn to both increase efficiency on the dairy and improve cow comfort. The robotic system features two Voluntary Milking Systems, computerized identification tags, automatic cow traffic control and integrated software that helps manage feed, record milk yields and monitor cow activity.
The robotic system has helped Marshik and Palmquist run their farm more efficiently and increased cow comfort. The new facilities have reduced health issues and allow the cows to be milked on their own schedule.
When designing the new barn, the couple implemented several energy efficient technologies including:
• Inflatable, temperature-controlled curtains
• Time-controlled, energy efficient fluorescent lighting
• A thermostatically controlled, three-phase fan and misting system
• Cross ventilation with energy efficient fans
• A plate cooler heat exchanger
• Energy efficient water heaters and an energy recovery tank
• A variable frequency drive and a scroll compressor
• Alley scrapers with energy efficient motors
• Energy efficient vacuum pumps
These technologies save the dairy 110,000 kilowatt hours (kWh) per year.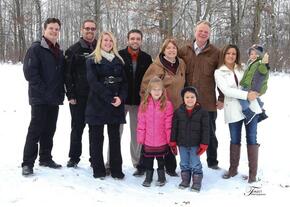 Marshik and Palmquist's 20-kW wind turbine has produced a portion of their electrical needs since 2008. The dairy also is home to a 44-panel, 10.7-kW, roof-mounted solar array.
Both the wind turbine and the solar panels have contributed to energy savings since their implementation. The wind turbine offsets 12 percent of the dairy's electrical use, and annual solar generation is forecasted to be 13,663 kWh, which will reduce electrical use by 8 percent.
In addition to their new milking facilities, Marshik and Palmquist added a new lagoon to their operation. With it, they are able to control runoff naturally by adding a filter strip containing alternate sections of gravel ridges and grass that retain particles and filter runoff water. Water is cleansed before it reaches water sources, preventing runoff from ever entering the drainage system.
In addition to preventing runoff, their new manure management plan includes regular soil sampling, proper nutrient application, less need for commercial fertilizer and fuel savings. In fact, due to the increased use of manure, Marshik and Palmquist have been able to reduce commercial fertilizer use by 8 percent.