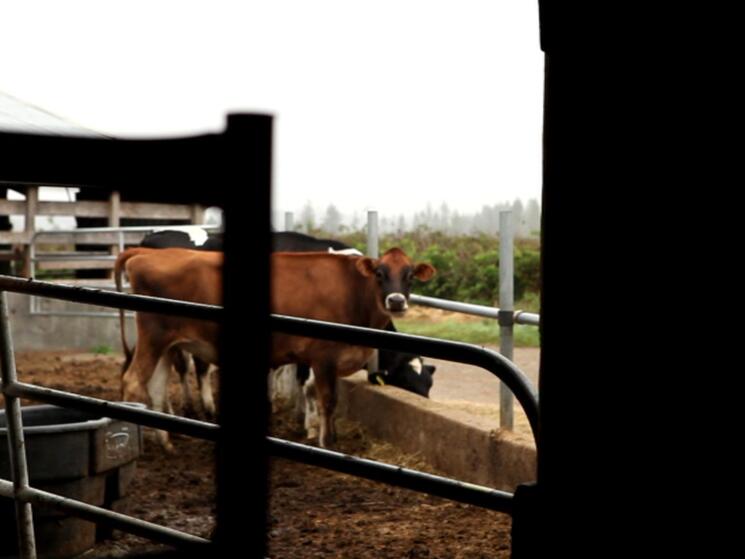 Each year at the Vander Haak Dairy, 500 cows produce 14 million pounds of milk. An anaerobic digester — the first in Washington state, installed in 2004 — converts their manure, plus food waste from nearby food processors, into energy and other saleable products.
Best Practices
Vander Haak sought a solution to many challenges: improving nutrient management, reducing environmental impact, improving social relations with neighbors, generating renewable energy, diversifying income streams, increasing profitability and solving practical problems. The answer to all these challenges ended up being an anaerobic digester.
The digester was the first demonstration site of a then-emerging technology to recover nitrogen, ammonia and phosphorus from digested manure. Today, 70 percent of manure solids are removed, and Vander Haak recovers 600,000 pounds of ammonium sulfate fertilizer and 3 million pounds of phosphorus-rich solids, both of which can help in crop production.
The phosphorus recovery contributes to Vander Haak's goal of reducing environmental impact, because this method is much more sustainable than more traditional mining practices used to unearth this element. In addition, the digester generates a more environmentally friendly alternative to peat moss and reduces carbon emissions by 17,000 pounds each year.
The success of Vander Haak's digester program inspired community members to see dairy as part of the solution for a more sustainable future, rather than part of the problem. In fact, the digester provides enough sustainable electricity to power 400 homes annually. In addition to the substantial environmental benefits, the revenue received from adding power to the grid, combined with carbon credits, earning tipping fees from pre-consumer food waste suppliers and sales of products generated from the digester process helps to make this program profitable across many fronts.