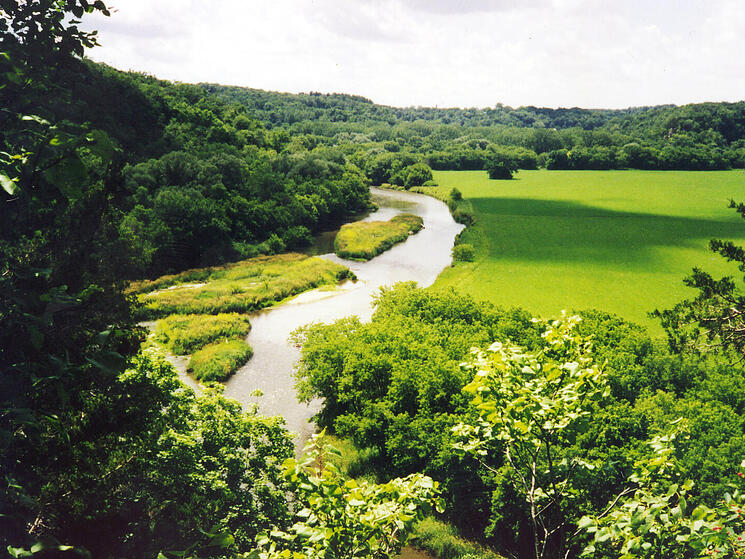 Date

: 22 December 2016

Author

: Kris Johnson, TNC; Derric Pennington, WWF
The Cedar Rapids Water Division has its headquarters, appropriately, just a few hundred yards east of the Cedar River, the source of drinking water for this second largest city in Iowa. This building is the epicenter of the Water Division's work to provide clean water for the 126,000 residents and numerous industrial and food production facilities located in the city.
Rising levels of nitrate in the Cedar River make this work more important than ever. The Water Division building was also the location of a recent workshop organized by The Nature Conservancy (TNC), World Wildlife Fund (WWF), University of Minnesota's Institute on the Environment and Cedar Rapids. In this unique meeting, farmers, watershed coordinators, and partners from producer organizations and state and federal agencies crowded around large, interactive TVs to "design" a watershed that could support profitable farming and provide clean water as well.
This workshop was years in the making and was only one step in a long collaborative process to quantify how better watershed management upstream can provide improved water quality and other benefits to communities downstream. Recognizing the importance of watershed management to their community, Cedar Rapids led an effort to secure more than $4 million through one of the first U.S. Department of Agriculture Regional Conservation Partnership Program grants, and in 2015 the "Middle Cedar Partnership Project" (MCPP) was born.
This innovative and collaborative effort involves 16 public and private partner organizations all focused on implementing agricultural best-management practices (BMPs) to reduce erosion, keep nutrients in farm fields and improve water quality for city residents and others downstream. The MCPP has catalyzed activity in the watershed and is off to a great start in tackling the nutrient and water quality problem in the Cedar River. But even this high profile project offers limited funding, and it's critical to make sure these dollars achieve the greatest impact possible.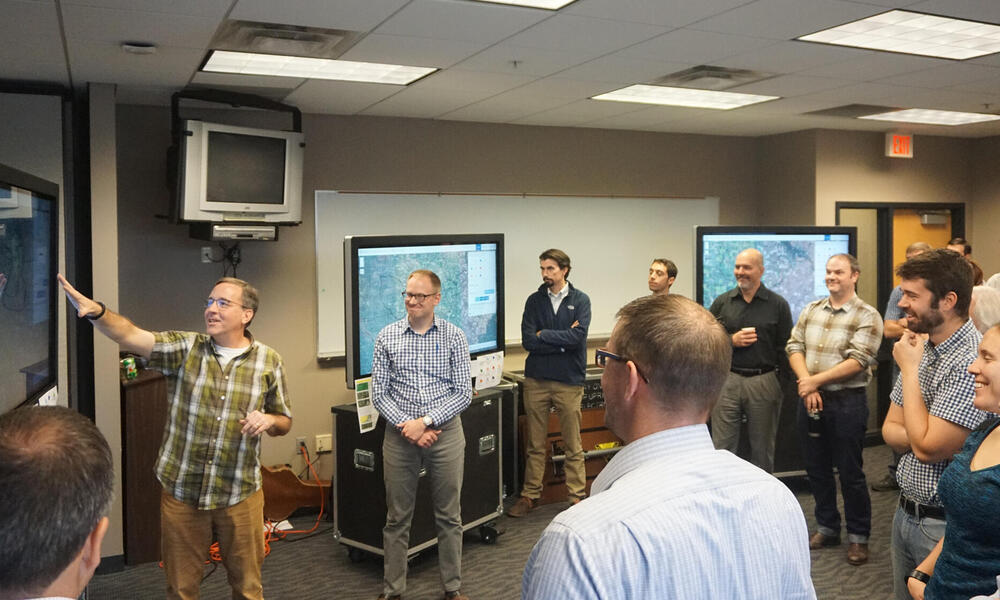 That's where TNC and WWF are taking the lead. In partnership with DuPont Pioneer, The Coca-Cola Company and the University of Minnesota's Institute on the Environment, TNC and WWF have led a cutting-edge scientific analysis that can target implementation of BMPs to ensure limited MCPP dollars achieve the most impact.
Using a new optimization tool developed by the partnership, this scientific analysis links the nutrient reduction provided by BMPs with data about their implementation costs. It also identifies which practices should be directed to what areas of the watershed to achieve the most cost-effective nutrient reduction possible.
But instead of just sharing the results of this project in a presentation or a scientific journal article, the partnership put this powerful information into the hands of local decision makers in the watershed. Working with colleagues at the University of Minnesota's U-Spatial, the partnership loaded the models into five 55" touchscreen TVs, trucked down to Cedar Rapids, and invited the relevant stakeholders to help us design cost-effective solutions to improve the river water quality.
The interactive session with the community went even better than we had hoped. Government officials from the City of Cedar Rapids gained valuable insights about how to make smart investments to achieve the most water quality improvement possible with limited MCPP funding. Farmers and producers explored opportunities to implement practices that can improve water quality downstream while minimizing impacts to farm profitability. And, perhaps most importantly, partners from upstream and downstream didn't get mired in assigning blame but rather had an open and robust conversation about how to design shared solutions.
Solving the nutrient and water quality challenge for the City of Cedar Rapids, and for the entire Mississippi River Basin for that matter, will not be easy or cheap. But with rigorous science, the support of the local communities, inclusive and productive partnerships, and thorough careful consideration of the costs of implementation, we can make smarter investments and design more optimal watersheds to support agriculture and provide clean water as well.