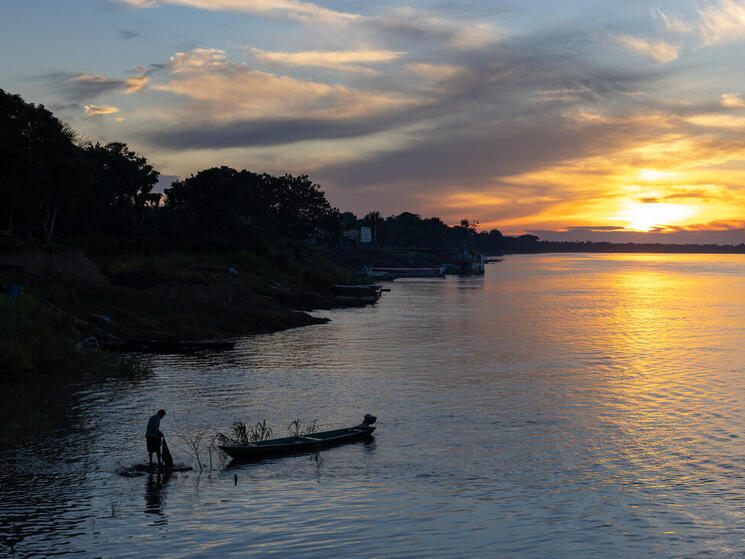 Date

: 01 June 2023

Author

: Allen Townsend, Senior Program Officer, Freshwater Metrics, WWF
Last week, the Science Based Targets Network (SBTN) launched its highly anticipated first release of science-based targets (SBTs) for nature. Keynoted by Nigel Topping, the High-Level Climate Action Champion for UNFCCC COP26, the launch webinar had over 3,000 registrants from across sectors, including governments, financial institutions, credit rating agencies, media, NGOs, and businesses. WWF has released blogs explaining the relevance of the Targets by Martha Stevenson and Craig Beatty over the past week.
The launch also marks a milestone moment toward addressing the freshwater emergency at scale. Business runs on clean and abundant water. Therefore, companies and their suppliers are a critical part of the solution, and setting meaningful targets is an important step. As part of the initial release, the first version of the freshwater technical guidance reflects decades of science and efforts by the water stewardship community and WWF to promote collective action for restoring freshwater ecosystems and protecting human water security.
The freshwater components of the guidance walk companies through the process of setting targets in priority locations that take direct aim at the provisioning of environmental flows, averting groundwater depletion to safeguard freshwater connectivity where possible, and preventing eutrophication to sustain aquatic life. This all takes place at the basin level or, put another way, they are 'collective targets'. Locations are identified and ranked in the process based on the needs of freshwater ecosystems and a company's pressures on them in its direct operations and upstream value chain. Put simply, the guidance provides companies with a top-down enterprise scale approach as well as a bottom-up site scale target-setting process. Through these targets, corporate actions will be aligned with sustainable limits for freshwater ecosystems.
One of the advancements with SBTs is that companies will now be asked to simultaneously evaluate their impacts and dependencies across all realms of nature at once. The assessment (Step 1) and interpretation & prioritization (Step 2) portions of the methods require an integrated approach across realms. Given that the operations and value chains of companies across industries often touch on multiple realms ("issue areas" in SBTN terminology), it makes sense to have a unified methodology for determining which issue areas are material to a company's business in terms of impacts and dependencies. The integration of all issue areas (Oceans, and Biodiversity will be included in future versions) into a single methodology contributes to efficiency, consistency and systematization in nature-related business decisions.
The freshwater guidance is also highly complementary to existing guidance, initiatives and standards that help companies with their water stewardship, particularly the Alliance for Water Stewardship Standard (AWS). First, they may both be applied on the same scale: within operational sites and in the basins they reside in. Second, they approach similar questions from different perspectives. AWS helps operations gather site and catchment data to develop robust water stewardship plans, which can and should include target-setting. SBTN's Freshwater guidance (Step 3) provides a robust method for setting targets that recognizes basin thresholds. Put simply, applying AWS will help with setting Freshwater SBTs, and setting Freshwater SBTs will strengthen the outcomes of the water stewardship plans developed through AWS. With this in mind, SBTN, Freshwater Hub Partners and AWS, have also taken the initiative to help orient companies on the landscape of water target-setting approaches and provide guidance for engagement across these approaches. As a result of this effort, we have produced a roadmap for companies to help them engage with each corporate water target-setting approach along their water stewardship journey.
Corporate momentum continues to build for action that protects and restores biodiversity. Following the adoption of the Post-2020 Biodiversity Framework and the recent Convention on Biological Diversity, SBTN received more applicants than it could accept to pilot the first SBTs for nature. Seventeen companies were ultimately selected based on readiness, representation, and impact on nature. As we embark on the next phase of the SBTN journey, we encourage companies to begin taking advantage of the SBTN resources and join the 115+ companies already engaged in the development process.
To learn more about the opportunities and potential, please join WWF's webinar for our corporate partners on June 21, featuring our SBT experts. To register, please click here.