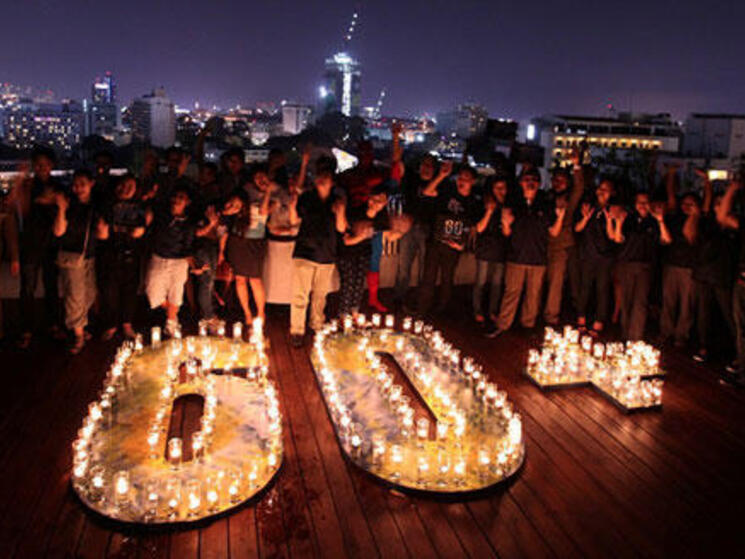 Date

: 18 March 2016

Author

: Hilton Worldwide
Every March for the past five years, thousands of Hilton Worldwide properties from around the globe have been taking part in WWF's Earth Hour. The idea behind Earth Hour, that simple steps can make a big difference to address climate change, truly aligns with Hilton's belief that passion for hospitality can be used to make a lasting, positive difference in people's lives and the wider world. Not to mention Hilton has a long standing passion for Earth Hour as the original idea was conceived during a WWF meeting held at Hilton Sydney.
In previous years, hotels have risen to the challenge of finding creative ways to participate and raise awareness about energy reductions and climate change. Guests have been treated to candle-lit dinners, acoustic music, comedy in the dark and low carbon menus, as well as opportunities to test drive electric cars or even swap their hotel car for a camel ride!
In 2016, Hilton decided to embrace the overwhelming enthusiasm of Team Members and franchise employees for protecting the environment and extended celebrations into the whole month of March. Hilton has challenged all hotels to use Earth Month to increase awareness of preserving the environment and enhancing year-round efforts to save water, reduce energy use and minimize waste.
Hilton's expanded Earth Hour efforts further demonstrate the company's on-going collaboration with WWF. In 2015, Hilton announced a multi-year commitment between WWF and Hilton collaborating on water-stewardship strategy, expanding Hilton's sustainable seafood efforts globally, advancing Hilton's food waste efforts and accelerating the adoption of renewable energy.
Hilton Worldwide views sustainability as a key part of its business. Water, energy, food, commodities, waste requirements and other factors significantly impact the economics of its business every day around the world. For this reason, preserving the environment, is a business imperative and a cornerstone of Travel with Purpose, the company's corporate responsibility strategy to create shared value for Hilton Team Members, guests, business partners and communities.
Hilton is one of the first major multi-brand hospitality companies to make sustainability measurement and reporting a brand standard, equal in importance to quality, service and customer engagement. Sustainability efforts are measured through LightStay™, Hilton's state-of-the-art, in-house corporate responsibility measurement platform. LightStay serves as the comprehensive, one-solution platform for all environmental, operational and social impact reporting for Hilton's global portfolio of hotels. This approach and its efforts have enabled the company and each one of its hotels to earn a triple ISO certification for Quality Management, Environmental Management and Energy Management.
Hilton encourages hotel participation as a tangible sign of its commitment to the environment and to inspire others to learn more and take action.