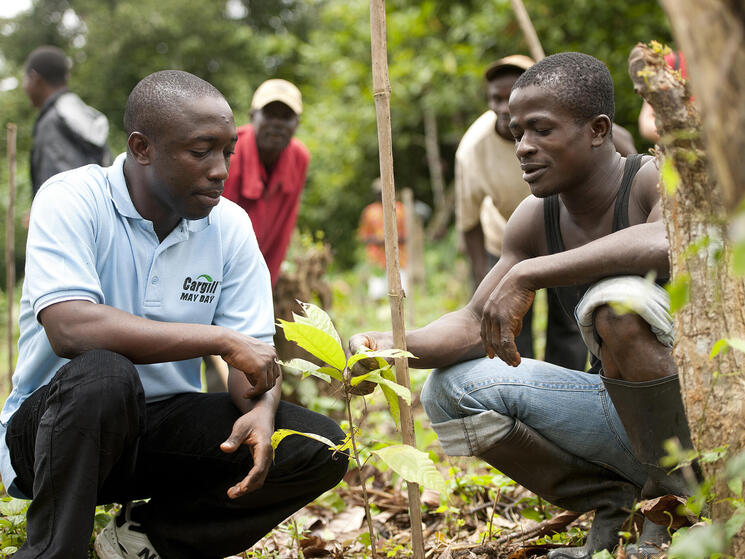 Date

: 28 May 2013

Author

: Mike Fernandez
Empowering Agricultural Entrepreneurs to Sustainably Feed the World
By Mike Fernandez, Corporate Vice President, Corporate Affairs, Cargill, Incorporated.
At Cargill, sustainable food production is fundamental to what we do. Our core business is buying, processing and distributing grains, oilseeds and other agricultural commodities and selling them to customers that include food and beverage manufacturers, foodservice companies and retailers.
These customers increasingly want to know – and want to prove to their consumers – that the ingredients in their products have been produced in ways that respect people and human rights, and employ responsible agricultural practices that protect land and conserve scarce resources. In short, sustainable food production is increasingly a business requirement.
Our sustainable agriculture initiatives involve farmers at all levels, from smallholders to commercial scale producers. In Brazil, we have worked for nearly a decade in collaboration with The Nature Conservancy to help farmers grow soy more sustainably. With the use of satellite imagery to ensure compliance, our program has helped more than 400 farms covering 132,000 hectares comply with conservation laws and reduce illegal deforestation in the Santarem area – and now we're expanding it to other areas in Para State.
With smallholders, the work we do every day gives us opportunities to participate directly in helping farmers improve their productivity and incomes by adopting sustainable practices and earning sustainability certifications. For example, as part of the Cargill Cocoa Promise, we are expanding the sustainability of cocoa production by engaging smallholder farmers in Cote d'Ivoire, Cameroon, Ghana, Vietnam, Indonesia and Brazil in training and education programs delivered via Farmer Field Schools. These programs train farmers in yield improvement and sustainability practices that help them become UTZ and Rainforest Alliance Certified.
Those certifications help expand the market for their cocoa and improve the price paid for it. Farmers we trained in Cote d'Ivoire are benefiting from income improvements as a result of a better quality crop and yields increasing by as much as 30 percent. In April of this year, 3,900 Ghanaian cocoa farmers received their first premium payments for production of sustainable cocoa beans following their participation in Cargill's farmer training program.
We are experiencing similar success with sustainable palm oil production in Indonesia. We first achieved Roundtable for Sustainable Palm Oil (RSPO) certification for our own plantation in South Sumatra. Then, through farmer training programs, we enabled some 8,800 surrounding producers to achieve RSPO certification under RSPO's Smallholders Principles and Criteria – the first RSPO certification to embrace smallholders. And the program has increased farmer yields and incomes and transitioned many from subsistence farming to ownership of viable agricultural businesses. Over the past six years, average income per farmer has increased three-fold.
In China, Cargill is collaborating with The Coca-Cola Company and the World Wildlife Fund to help smallholder corn farmers improve their livelihoods through training and information in techniques to improve yields, conserve water, improve crop storage, protect wetlands, and reduce the environmental impact of agriculture in Jilin Province. Only in its first year, the project has already reached 6,000 farmers.
Our experience shows that the private sector – including some 450 million smallholder farmers and entrepreneurs in the global food chain – can be an engine to alleviate hunger and poverty. But there are preconditions for lasting success. Among the most critical are policy frameworks that enable smallholder farmers to evolve into commercially viable businesses – policies that include property rights, markets and trade, infrastructure and investment and risk management. There is ample and compelling evidence that investing in agricultural intensification is among the most effective means to reduce global poverty and hunger and save the environment. Doing it all right requires the public and private sectors to work together to implement policies and make investments that motivate farmers at every level to increase production responsibly and that enable food to move more freely from areas of surplus to areas of deficit.
EDITOR'S NOTE:
This blog is part of the Sustainable Food Production Series, brought to you by WWF and Business Fights Poverty. We pose the question - How is sustainable food production helping to pull people out of poverty? - and invite guest responses. Please share your thoughts via comments, or tweet us @BalanceWWF.
About the Author:
Mike Fernandez is Corporate Vice President, Corporate Affairs, for Cargill, Incorporated. He leads Cargill's worldwide corporate affairs activities, including government relations, media, communications, brand management, marketing services, and corporate responsibility, as well as representing Cargill's business and corporate policy interests. Before joining Cargill, Fernandez worked at State Farm Mutual Insurance as its Vice President of Public Affairs. He has led the public relations function at ConAgra Foods, CIGNA, and US WEST and worked in marketing and public relations roles at Eastman Kodak Company. His early career was in various political and governmental roles in Washington, D.C., including as press secretary to former U.S. Senator Ernest F. Hollings.