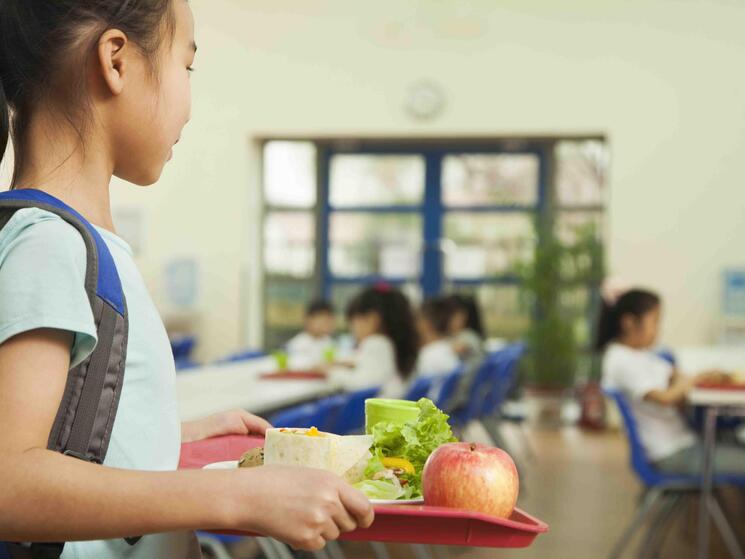 Date

: 27 January 2020

Author

: Katherine Devine, Director, Business Case Development, WWF Markets Institute
Up to 40 percent of food in the United States is lost or wasted, yet 1 in 7 children in the U.S. live with hunger. A recent study by World Wildlife Fund's Food Waste team shows how schools can be at the forefront of confronting these challenges. The study found that the uneaten food in US schools could amount to $1.7 billion dollars every year. How else could those dollars be spent? Just 5% of that savings, or $85M, could:
Provide an additional 51M school lunches (at $1.65/lunch),
Incentivize 56,000 teachers to lead food waste initiatives (assuming $1,500/yr incentive), or
Fund 170,000 field trips to farms to help connect students with their food (at $500/trip).
These represent just a few of the many ways schools could re-invest savings from food waste reduction to improve education and nutrition outcomes for students and teachers.
Food waste in schools is a complicated issue, with waste occurring for reasons ranging from too-short lunch periods to a lack of clarity around policies like share tables or food donation. Nevertheless, small changes can produce meaningful reductions in food wasted, which could free up precious budget dollars for other purposes. In WWF's Food Waste Warriors study, we found that by simply auditing cafeteria plate waste with few additional interventions, schools recorded 3% average waste reductions, which reached up to 53% in the highest performing schools.
Educators, nutritionists, and school food service staff have a critical role to play in reducing food waste in schools but require support through administrators, government, parents, and other stakeholders. Schools were keen to do more to reduce food waste through both policies and student engagement, but limited time, resources, energy, and tight budgets to invest in initiatives are often prohibitive to enable more robust action. Imagine the possibilities if federal and state policies supported students and schools in reducing waste, saving resources, and creating a virtuous cycle to encourage both.
Food waste audits are cheap, requiring only some signage, buckets, and time, yet they can produce meaningful results toward teaching students about the value of food and its connection to our natural resources while also saving schools money and benefiting the planet. In addition to audits, there is a myriad of other possibilities to further reduce waste while empowering students with new skills and better nutrition. Options range from composting, training, and advocating for change, to school garden programs, menu taste-testing, and more, and can be tailored based on the needs and interests of the school.
If it's a school's business to educate students and prepare them for the future, using the cafeteria as a classroom is good business for schools. By encouraging students and teachers to use creativity and entrepreneurship to tackle food waste, schools can save money in the process to reinvest in mutually-reinforcing initiatives.
Learn more about the business case for food waste reduction in schools.
Learn more about WWF's work on making the business case for sustainability.