Leading Companies Join WWF in Calling for Large-Scale Climate Action Ahead of Paris Talks
Date

: 31 March 2015

Author

: Lou Leonard, WWF
Today, the United States joins a growing group of countries proposing national contributions to a global climate pact to reduce carbon pollution. Ahead of negotiations in Paris this December, nearly every nation on Earth will be on this list, marking a major turning point on climate cooperation.
The US announcement is a big deal. It sends a long-term signal that US climate policy over the next decade will help drive emissions down and accelerate the transition to a zero-carbon economy. Implementing this new climate target will also begin to line up US policy with growing majorities of Americans, as well as key business leaders, calling for more climate action now.
Although a milestone, the unprecedented collection of country pledges ahead of negotiations in Paris will need to be ramped up to reach the level of pollution cuts called for by our best scientists. Ahead of Paris, we'll need additional cooperative action and to design a new international agreement that collaboratively closes this science gap as quickly as possible.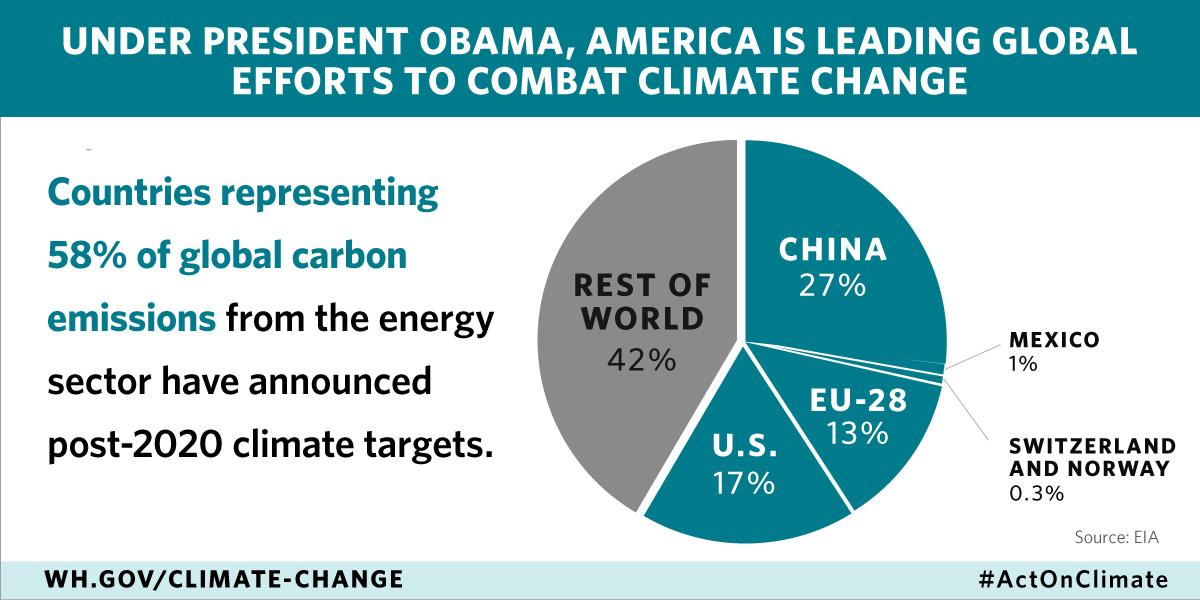 WWF hopes the US will come to Paris ready to join this new era of climate cooperation by adding to its domestic contribution with an additional specific commitment to work with other nations, businesses and civil society to take a big bite out of the gap.
The good news is that many in the private sector have been stepping up to the challenge for over a decade and are joining WWF's call for greater cooperation and additional joint ventures to fend off the worst effects of climate change:
Bloomberg
"Today's emissions reduction target moves our nation closer to capping carbon pollution at levels that the science demands. At Bloomberg, we are disproving the myth that these efforts come with a cost. In fact we are proving that these efforts are both good for society and good for business. We have made significant progress reducing our carbon emissions, achieving a 50% global footprint reduction by 2011, and are currently targeting a 20% absolute emissions reduction by 2020. We are always striving to do more and continue to look for innovative ways to further curb our environmental impact both within and outside of our boundaries. These efforts, which are part of Bloomberg's comprehensive sustainability program and overall business strategy, have yielded significant business and financial benefits. Much like the role cities are already playing, corporations too have a real opportunity to lead the way on sustainability efforts and we hope our successes encourage other private sector and government organizations to pursue similar initiatives." – Curtis Ravenel, Head, Sustainable Business & Finance Group at Bloomberg LP
Cisco
"Increasing carbon concentrations in the Earth's atmosphere require action to improve energy efficiency and increase generation and use of low-carbon electricity. The 3% Solution identifies many initiatives in use today that provide a positive return on investment and drive effective action to address increasing CO2 concentrations in the Earth's atmosphere. If these cost-effective best practices were broadly adopted, we could meet the goal of 3% per year reduction in GHG emissions.
For the last seven years, Cisco has reduced its own carbon emissions by 25% with a current goal to reach a cumulative 40% absolute reduction. We are developing, testing and now selling products and solutions that help our operations—and those of our customers—be more efficient, saving money and benefiting the planet. These solutions decouple energy consumption from economic development and growth. Cisco considers the complete product life cycle in order to create a sustainable, circular economy of products and services that delight customers around the world.
We invite leaders in the public, private and non-profit sectors in developed countries and emerging markets to focus on action today to create a sustainable tomorrow." – Darrel Stickler, Sustainable Business Practices at Cisco Systems
HP
"As one of the world's largest IT companies, we believe we are uniquely positioned to help our company and our customers lower carbon emissions by developing more sustainable technologies that replace outdated, inefficient processes and behaviors. With our product emissions goal, we are once again demonstrating our commitment to building a low-carbon economy that creates a better future and a healthier world for generations to come." – Gabi Zedlmayer,VP and Chief Progress Officer, HP
Sprint
"Today's announcement represents an important step toward a more serious commitment to carbon reduction within the US. Businesses that have not yet set science-based carbon reduction targets should recognize that the time has come for them to take meaningful action – the benefits far outweigh the risks. At Sprint, we saved nearly $90M in reduced energy expense in 2013 as a result of reducing our carbon footprint by an absolute 30 percent from our 2007 level. We expect to announce further decreases through our 2014 results. Now is the time for companies to step up their commitment and reduce the energy waste that hurts both their bottom line and our environment."– " – Amy Hargroves, Director of Corporate Responsibility at Sprint
To learn more about how these companies are tackling climate protection and seizing market opportunities visit www.climatesavers.org and www.the3percentsolution.org.