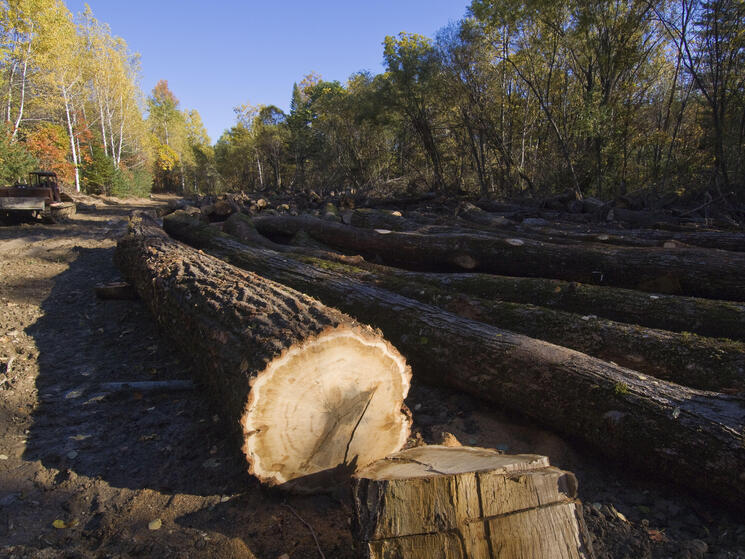 Date

: 14 October 2015

Author

: Linda Walker
The first time I saw tiger tracks in the snow was during the winter of 2009. I was in a Russian Far East forest with my WWF-Russia colleagues.
It was so exhilarating, especially given that we knew that the tracks were from an Amur tiger – a regal-looking endangered species that only is found in the Russian Far East. Fewer than 550 such tigers exist.
Given how close I felt to a tiger that day, my heart sank when, later that afternoon, we witnessed a brigade of illegal loggers steal timber from the Tayozhny Wildlife Refuge. The refuge is one of the last habitats for the Amur tiger. It is part of a forest that looks amazingly similar to an Appalachian forest – with oak, ash and pine-covered hillsides, as well as mist-laden valleys. But the Russian forest is on the brink of destruction. And pervasive illegal logging is the main culprit. Much of this timber from the forest flows into China and is made into flooring, furniture and other products that find their way to unsuspecting consumers in the United States, Europe and Japan.
A recent settlement brings us one step closer to stopping illegal logging in the Russian Far East and, hopefully, other important forests.
On October 7, Lumber Liquidators, North America's largest specialty retailer of hardwood flooring, announced that it would plead guilty to violations of the Lacey Act. This US law, which originally was passed to prohibit illegal wildlife trade, was amended in 2008 to also prohibit illegal timber and timber products, among other products, from entering the US market and being traded in the US.
The news is a major coup for conservation, as illegal and unsustainable logging is responsible for most of the degradation of the world's forests.
"Given how close I felt to a tiger that day, my heart sank when, later that afternoon, we witnessed a brigade of illegal loggers steal timber from the Tayozhny Wildlife Refuge. "

Linda Walker Director, Global Forest & Trade Network-North America
According to Lumber Liquidator's SEC filings, the settlement between Lumber Liquidators and the US Department of Justice relates primarily to the company's import of flooring from China. Some of this flooring was made with timber that was overharvested beyond permitted amounts from the Russian Far East. Some shipments from China also contained false declarations regarding the species and/or the country of harvest. The case also involved timber from Myanmar that was manufactured in China and misdeclared as a different species from Indonesia. The company also agreed to make a total of $13.2 million in payments as part of the settlement.
This case, the facts of which were also the subject of an investigative report in 2013 by the non-profit Environmental Investigation Agency, illustrates the critical role of the Lacey Act. WWF is working to ensure the implementation of amendments to the legislation that were made in 2008 to include timber products. Implementation requires funding. WWF and nearly 500,000 of our supporters have called on Congress to provide US government agencies with the funding they need to implement the Lacey Act.
The case also demonstrates the important role of companies and consumers in stopping illegal logging. Many organizations, including WWF, offer tools and resources to help companies practice due care for legal and responsible sourcing that can help forests, wildlife and communities thrive. And consumers, when shopping for flooring, paper, or any forest product, to look for the Forest Stewardship Council (FSC) label, knowing it's the best sign available of legal and responsible sourcing.
As Director of WWF's Global Forest & Trade Network-North America program, Linda promotes responsible forest management and trade in WWF priority places by engaging with North American companies committed to sourcing wood and paper products from well-managed and credibly-certified forests.