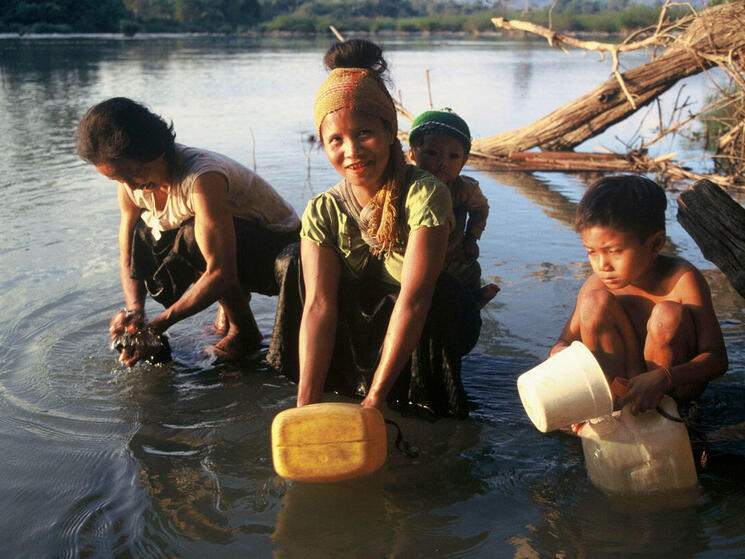 Date

: 24 March 2015

Author

: Sarah Davidson and Lindsay Bass
The Sustainable Development Goals are intentionally audacious. Any skeptic can give you a dozen reasons why it'll be incredibly difficult to provide safe drinking water to the more than 748 million people who lack access today, or toilets to the 2.5 billion people without adequate sanitation facilities. Often, these skeptics have strong arguments. So why put such emphasis on setting big goals?
The answer is simple: we want big results. If we are ever going to live in a water-secure world, we need to set an ambitious goal and commit to earnestly striving to achieve it. As we imagine what it would take—as we lay out work plans in Excel sheets or present ideas on PowerPoints—15 years to install millions upon millions of sustainable taps and toilets seems like an awfully short period of time. But if you're a mother who needs to walk hours to fetch water, who has watched her children suffer from water-born diseases and thirst, and who is waiting for one of those toilets and taps—well, then 15 years feels like a lifetime.
And if you're a conservationist like we are, who wants to see that water is secured for people and nature, the proposed water and sanitation goal (and its targets) is crucial. Successful water access, sanitation and hygiene (WASH) projects integrate the value of freshwater ecosystems and take a holistic approach that benefits people, the planet and local economies. When WASH projects are done poorly, taps run dry and toilets pollute drinking water. But when they are done well and with the environment in mind, WASH projects can help protect natural freshwater ecosystems, which improves the predictability and sustainability of adequate water quantity and quality. Health and environmental conservation are mutually dependent. In other words, healthy communities help preserve a healthy planet, and a healthy planet is the foundation for healthy communities, and all of it depends on healthy freshwater systems.
We acknowledge the challenges. There will be many. That's why we're particularly excited to see a variety of corporations and organizations—including our partners here in North America: FEMSA Foundation, Procter & Gamble, and The Coca-Cola Company—vocalizing their support of the water and sanitation goal as it is currently proposed. Because if we work together, we just might be able to achieve something as audacious as securing water for all.