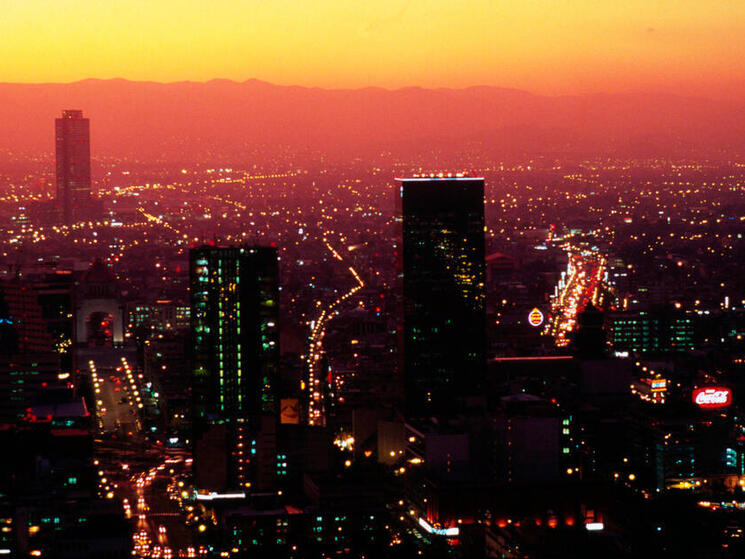 Date

: 26 August 2019

Author

: Daniel Riley and Luli Pesqueira
New opportunities in Mexican Electricity Market
Until recently, to most companies, buying electricity in Mexico meant plugging in and paying their bill. The market maintained a vertically integrated state monopoly, with very limited private generation. However, the Energy Reform of 2014 has transformed the Mexican electricity market entirely. This unprecedented reform created a liberalized wholesale market that allows commercial and industrial users to choose their own electricity supply at a competitive price.
With this new-found freedom of choice comes an urgent need for knowledge and market intelligence. Electricity buyers need transactional and technical support to help them navigate the new options in a complex marketplace.
The WWF team in Mexico sees this reform beyond cost-competitive electricity as it unlocks the conditions for more renewable energy with a stronger than ever business case for corporate buyers.
Building upon the foundation of early buyers' engagement, with the strong technical support of market experts, and ultimately made possible by the partnership among corporate buyers, renewable energy project developers, service providers, NGO partners and other key stakeholders, WWF has launched the Ren mx platform. Here, corporate buyers can find guidance to develop and execute a renewable energy purchasing strategy in only eight steps: from analyzing their energy demand to choosing a supplier and monitoring the performance of their deal, to everything in between.

The goal of Ren mx is to increase the competitiveness of businesses in Mexico by providing access to affordable and secure renewable energy, while helping companies to decarbonize their operations and ramp up the penetration of renewable energy in the Mexican grid.
Renewable energy: the new frontier for competitiveness
More than 1,500 companies in Mexico have purchased renewable energy through Power Purchase Agreements (PPA) in the last 20 years. Mining, industrial and financial sectors are leading the way. The new market offers even more renewable energy supply alternatives and cost-competitive options with flexible terms that can be tailored to different business needs. These options offer a suite of benefits including price stability and transparency, cost saving, risk mitigation, and the opportunity to improve sustainability performance and demonstrate leadership. Renewable energy procurement is the new frontier for competitiveness in Mexico. While the market already saw the pioneering companies' success, many more fall short due to the high transaction cost and complexity of large-scale renewable energy deals. Ren mx is here to provide capacity building to get the next 1,500 companies to source renewable energy.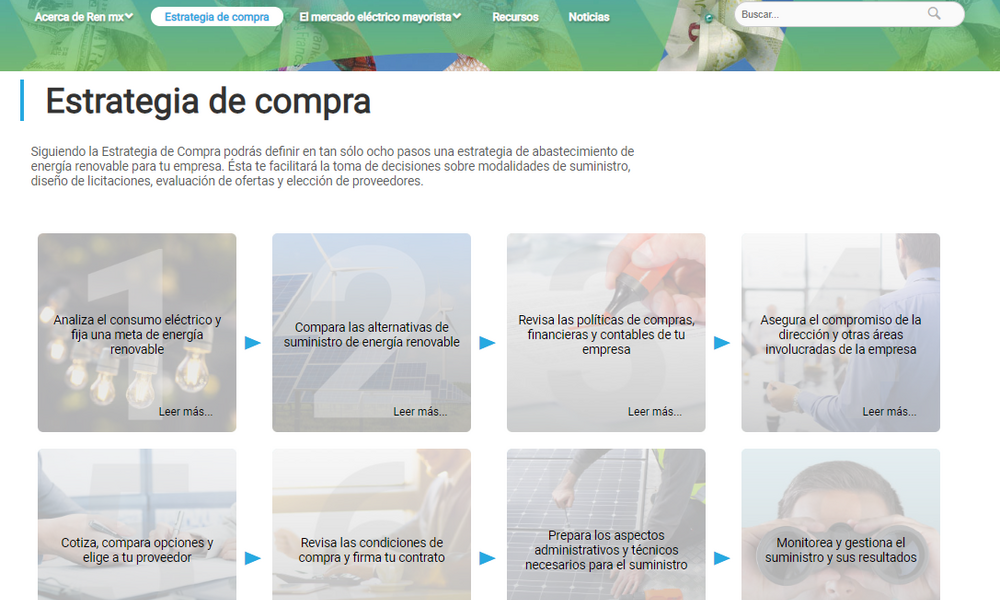 Ren mx: a platform by buyers, for buyers
Inspired by Renewable Energy Buyers Alliance in US, Ren mx is born of consultation with corporate buyers and strives to serve buyers' needs. The platform provides timely and simplified market intelligence, training and tools for renewable energy buyers, and helps to connect buyers with suppliers. No more trying to figure it out on your own - Ren mx offers a standardized step-by-step guide and a community of learning and sharing.
As mentioned earlier, the Procurement Strategy Planner (Estrategia de compra) walks a new energy buyer through an eight-step process to determine a renewable energy sourcing strategy. It entails detailed tools and guides to perform an analysis of energy consumption, criteria to evaluate suppliers and design an RFP, to structure and negotiate a contract, and for comparing offers and understanding the legal implication of your deal. "The Procurement Strategy has made the renewable energy PPA so much easier," said a corporate buyer in Mexico, "It shows the team behind this tool truly understand the challenges and demand of corporate buyers."
Join Ren mx now and become a part of the transition towards a more competitive and renewable Mexico.
To learn more about Ren mx, visit www.ren.mx, or contact Luli Pesqueira Fernandez