Rising Stars in Sustainability: Kari Armbruster
Date

: 16 March 2022

Author

: Kari Armbruster, Kroger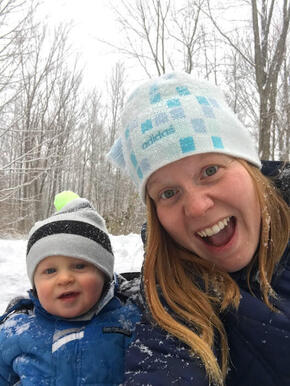 My career at Kroger began in 2013. At that time, very few companies had begun to formalize their strategy on "sustainability." Kroger was only one year in to having a full time employee leading the function and she was a team of one. I came into the corporate affairs department as a specialist designed to help manage projects for several different functions including sustainability and corporate philanthropy. My background was in politics and campaigning, so corporate social responsibility was brand new to me.
Looking back, I am so thankful that I came into Kroger at that time. Being a part of the development of a full scale sustainability strategy and the redevelopment of our social impact work was truly groundbreaking for me. There are two points in my life that I can look back on and realize that I lost myself in a passion for work: The first was in college on my first political campaign; the second was in the development and launch of Zero Hunger | Zero Waste.
Zero Hunger | Zero Waste started with a challenge from our CEO and a whiteboard. Our team was trying to reimagine Kroger's community impact and I couldn't help thinking that we were going about hunger all wrong. Instead of just donating our money, we needed to help bring together all the key stakeholders to reimagine the charitable food system from the ground up. The system was holding together the fallout from a lack of food access, but it wasn't working to end hunger. On top of that, our role as America's largest traditional grocer gave us firsthand knowledge of the food system and the waste that occurs every day in America. It was clear from the beginning that these two massive social problems were intrinsically connected. Neither can be solved without addressing the other.
In the fall of 2016, Zero Hunger | Zero Waste was born. Over the next year, our team consulted both internal and external experts and designed our first ever social and environmental impact plan which launched publicly in 2017.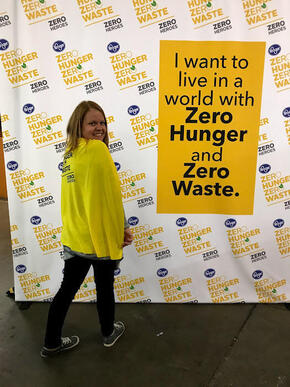 I'd like to say that my role in sustainability just evolved from my work at Kroger, but I think I was born for this work. My daily job involves identifying obstacles to achieving our goals and organizing a team of solution makers to come together and address them. My background in politics and communications has given me a lot of the skills I need for this job. I am also a lover of learning. Since taking on the role of leading Zero Hunger | Zero Waste at Kroger, I have had to become an expert on grocery store operations. This is no easy feat. Grocery stores are complex and food sourcing is even more complicated. I am thankful for all those around me at the company and outside of it that I can lean on to help guide me when needed, which is often. The opportunity to take on food waste and hunger across America is one I do not take for granted; it is something I am proud to wake up and fight for each day.
I am incredibly excited for the future of grocery retail sustainability. Now more than ever, food waste is a topic being addressed by most of the industry. I am proud of the role Kroger has played in advancing the importance of this mission. My hope is that one day everyone has access to fresh food so that no food produced is ever wasted.
…
The views expressed in this post do not necessarily reflect those of WWF.