Rising Stars in Sustainability: Niamh Lehane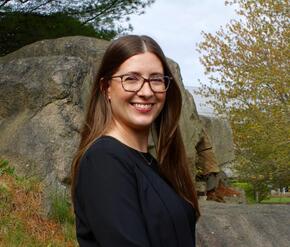 Describe your role for your company and what a typical day looks like.
As a Sustainability Manager in the Corporate Social Responsibility department at CVS Health, I support the development and execution of our enterprise sustainability strategy to advance our commitments and our Environmental, Social and Governance (ESG) reporting. My days typically include engaging internal and external partners and project managing a portfolio of our sustainability projects and the many ESG frameworks we report to throughout the year.
Why did you decide to pursue a career in corporate sustainability?
I went to college for Political Science, and I had initially imagined that I would work in the social justice policy advocacy and legislation space. Yet, environmental sustainability was a passion of mine and after college, I worked in environmental consulting. In my position there, I tracked and analyzed proposed and enacted environmental packaging laws internationally, which aligned my passions for law and sustainability. My career since then, in many ways, has been a journey of further realizing the connection between people's well-being and the environment's health.
I enjoy working in corporate sustainability specifically because I believe business is integral in addressing the climate crisis, and I am passionate about driving systems change from within. At CVS Health, we have the opportunity to impact the health of people and the planet significantly, and I am incredibly thankful to play an active role in that impact.
Talk about your favorite moment in nature.
I try to spend as much time as I can in the warmer months hiking in Massachusetts and New Hampshire. But what brings me the most joy in nature is my backyard. Particularly in the spring, I enjoy watching my garden come back to life after the winter. I have been passionate lately in learning about native, drought-resistant, and pollinator-friendly perennials. I've been committed to replacing my grass and planting native plants and ground cover that need no – or very minimal – watering. My goal is to turn my yard into a space that is a beneficial habitat for birds and insects.
What advice would you give to someone just beginning their career in corporate sustainability?
I think it is a given that anyone who is looking to enter the field of corporate sustainability is passionate. Passion is great, but sustainability is about much more than passion. Focus on developing skills like relationship building, business acumen, and project management.
And my second piece of advice is to develop a professional network. I think people at the beginning of their careers will find that sustainability professionals are an incredibly welcoming community who are eager to help and share their knowledge. Reaching out to professionals who you admire and asking for just 10 minutes of their time for an informational interview can go a long way.
What are you excited about for the future?
I am excited about the next phase of maturity that the sustainability field is undergoing. From my vantage point, the investor community's interest in ESG and proposed climate disclosure rules from the SEC is creating a seachange in the industry. I am excited to be part of the evolution of the field. Sustainability is inherently a creative field – I am excited to be at the intersection of rising to new expectations around controls and governance while also maintaining the creative spirit which is integral to sustainability.