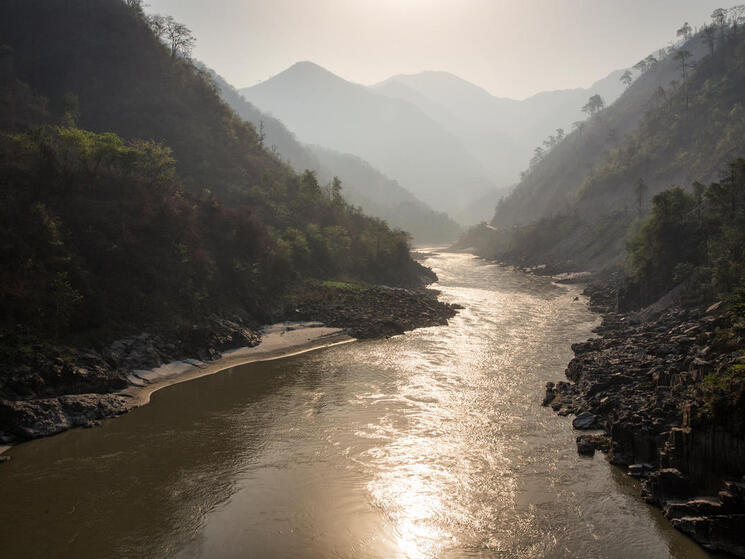 Date

: 22 March 2023

Author

: Tim Rice and Natalie Shahbol
The United Nations 2030 Agenda for Sustainable Development, adopted by all UN member states in 2015, provides a shared blueprint for peace and prosperity for people and the planet, now and into the future. At its heart are the 17 Sustainable Development Goals (SDGs), which recognize that ending poverty and other deprivations must go hand-in-hand with strategies that improve health and education, reduce inequality, and spur economic growth—all while tackling climate change and working to preserve nature.
However, In 2022, the SDG progress report highlighted that "urgent action is needed in order to rescue the SDGs and deliver meaningful progress for people and the planet by 2030." The state of SDGs related to water, climate change, and nature loss are particularly dire. For example, SDG 6 calls for clean water and sanitation; however, 85% of the planet's wetlands have been lost, leaving less than 15% to provide benefits such as groundwater and aquifer recharge. Another alarming statistic predicts that medium-to-large-scale disasters (many of which are water related) will increase 40% between 2015-2030, which leaves just over five years to build resilient societies that are prepared for increasingly common disasters such as floods and droughts. In addition, 40,000 species, including freshwater species critical for food and the economy, are at risk of extinction.
Thankfully, there is an often overlooked solution that is an SDG hero: rivers. Rivers and associated wetlands have long been the lifeblood of civilizations around the world. Indeed, many of the foundations of a functioning society are possible because of the value rivers provide. Healthy and connected rivers are so valuable that they are essential for achieving nearly half of the 17 United Nations SDGs!
How healthy and connected rivers contribute towards 8 of the 17 SDGs:
But in many cases we are harming rivers and not allowing them to serve as the SDG heroes they can be. And the incredible values rivers provide are hard to recreate if they are lost. One of the largest ways we have altered the natural state of rivers is through dam building. And for the world's longest rivers, the powerhouses of the SDGs, it is hydropower dams that have been, and continue to be, the biggest driver of disconnecting rivers. There are tradeoffs involved in damming a river for functions such as energy or water use versus letting it remain free flowing. But often, the negative impacts from dams have been underestimated due to the value of rivers being underappreciated.
For example, damming rivers for hydropower can help achieve some SDGs, but can also have negative impacts on SDGs by disconnecting rivers and therefore altering the natural flow of water, sediments, nutrients and species, which impacts the health of ecosystems and the stability of deltas. Increasingly, the positive contributions from hydropower dams can be provided by other energy solutions, such as well-sited wind and solar and other storage solutions.
Positive and negative SDG contributions from hydropower dams:
It is abundantly clear that healthy and connected rivers are urgently needed to help the world achieve the SDGs and stay true to its promise of a world of peace, dignity and prosperity on a healthy planet. Without healthy and connected rivers, goals such as climate change adaptation and reversing nature loss will be much more difficult, if not impossible, to achieve.
So how can we harness the superpowers of the worlds longest rivers—our SDG heroes? The good news is that we know what needs to be done. Stakeholders around the world can use nature-based solution (NbS)¹ to ensure rivers remain SDG heroes by²:
Protecting river stretches so they can continue to serve as SDG heroes
Designating protected areas, through durable river protection mechanisms³ to protect critical freshwater ecosystems, high conservation value river systems, and key biodiversity Areas, including their ecosystem services and dependent terrestrial ecosystems
Managing & sustainably using rivers to improve their ability to support the SDGs
Using the SDGs, the Global Biodiversity Framework, and the Paris Agreement as guidance to ensure that integrated, strategic, science-based, holistic, inclusive regional planning processes are used to make decisions which protect and preserve the numerous social, economic and environmental values provided by rivers
Accelerating implementation of environmental flows through river basin planning, water allocation, and infrastructure design and operation
Improving water quality to sustain life through waste water treatment, regulation of polluting industries, market instruments, and improved agricultural practices
Managing exploitation of freshwater species through science-based fisheries management, community fisheries management and bycatch reduction
Preventing and controlling non-native species invasions in rivers through control and eradication of established invasive, non-native species and identification and control of introduction pathways
Restoring rivers to allow them to help "save" the SDGs
Restoring floodplains and wetlands
Using reoperation and removal of dams to restore river connectivity
The SDGs, the planet's shared blueprint for peace and prosperity, desperately need rescuing. Rivers are the heroes we need—let's start acting like it.
---
¹The United Nations has defined Nature Based Solutions as actions to protect, conserve, restore, sustainably use and manage natural or modified terrestrial, freshwater, coastal and marine ecosystems, which address social, economic and environmental challenges effectively and adaptively, while simultaneously providing human well-being, ecosystem services and resilience and biodiversity benefits, and recognized the important role they play in the global response to climate change.

²Based on: Tickner, David, et al. "Bending the Curve of Global Freshwater Biodiversity Loss: An Emergency Recovery Plan." BioScience, vol. 70, no. 4, 19 Feb. 2020, pp. 330–342, academic.oup.com/bioscience/article/70/4/330/5732594, 10.1093/biosci/biaa002.

³Durable Freshwater Protection, MDPI (2019)