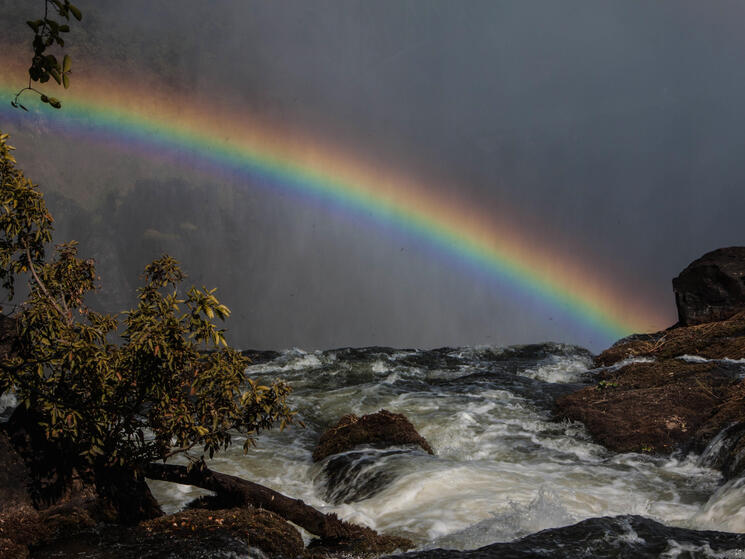 Date

: 22 March 2015

Author

: Imakando Sinyama, WWF Zambia
WWF and Sedex released a brief for World Water Day examining corporate water risks, and of the many important take-aways, the one that sticks with me most is this: Even if a business is highly water efficient or uses a relatively small amount of water, they may still be at risk.
This is counter-intuitive in the extreme, and clearly it is a message that hasn't sunk in with most suppliers. To help get your head around this, let's take a look at a very specific example: the Kafue Flats.
Part of the Zambezi River basin, the Kafue Flats are considered the economic engine of Zambia. The Flats provide 50 percent of the nation's hydroelectricity; supply nearly 90 percent of sugarcane for domestic and export markets; support an estimated 20 percent of the national cattle herd; produce maize, predominantly through small-holders; attract nearly 30 percent of national tourism; and sustain one of Zambia's most productive wild fisheries. These activities are estimated to support more than 900,000 people, who also depend on the Kafue Flats for water. Today, this system is fast approaching the limit of what the river can provide.
All of these benefits are due to the elegance of the functioning wetland ecosystem, as illustrated below. Annual flooding is critical for regenerating fish populations; the receding flood is critical for grazing cattle and other herbivorous wildlife such as the endemic Kafue Lechwe (Kobus Kafuensis).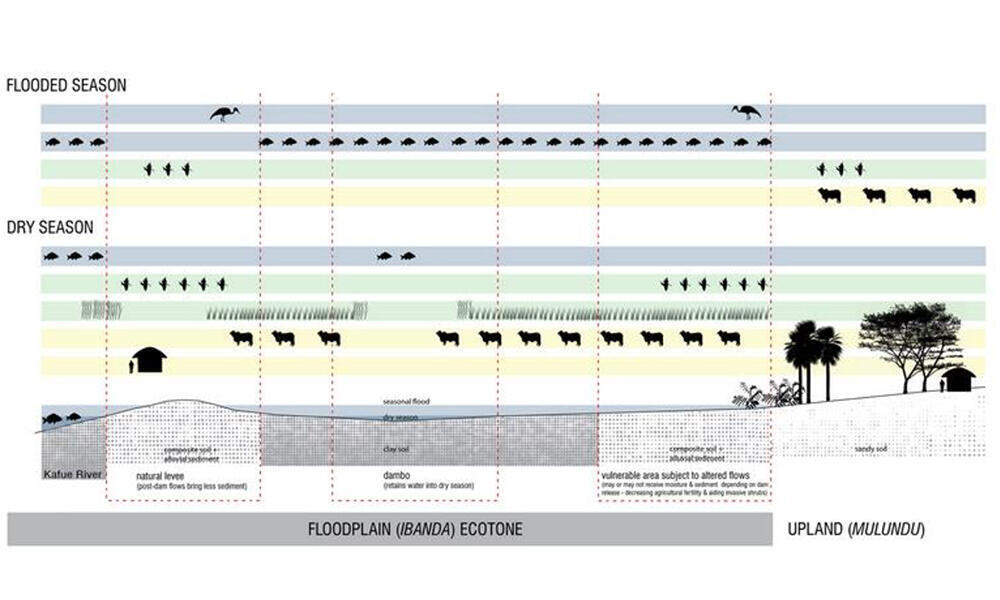 It's beautiful and simple and it works. But you can imagine how vulnerable this system is. As more people move into the area, as more water is demanded, and as climate change makes water levels less predictable, everything is affected and risks are magnified.
It's probably easiest to imagine how water scarcity could impact agriculture: less water means less food. But as you trace the flow of the river in this image from left to right, you can see that the threats to agriculture and the livelihood of farmers are only one part of the story.

While agriculture is a major employer in Zambia, agriculture by itself cannot support the whole of the country or increase the GDP of the country alone. Agro-processing and manufacturing, including the food and beverage sector, contribute a major proportion to the economic stability of the area.

The carbonated soft drink market is highly dependent on the production of sugar in the Kafue Flats. Nearly 90 percent of the sugar produced in Zambia is planted and harvested here. Therefore, these companies are also vulnerable to reduced agricultural production which results from water scarcity. The consequences of a stagnating agricultural sector has a range of impacts beyond farmers, including reduced employment in cities and reduced exports.

To further complicate matters, let's bring in the energy component. Fifty percent of Zambia's hydroelectricity is dependent on the Kafue River. Adequate water flow is critical for the generation of power—the amount and the quality of the water are both important factors. Variations in rainfall and temperature mean variations in electricity generation. Why do we care?

Already, only 14 percent of the energy consumed by Zambia comes from the National Grid. You'll notice that huge chunk of the pie chart is wood fuel. This is a problem. The impact of firewood and charcoal on the natural environment of Zambia cannot be overstated. Every year the equivalent of 430 square kilometers of woodland is cleared to produce charcoal. This consumption already far outweighs supply. Imagine if the electricity generated from hydropower were in jeopardy – this would mean even more forests cleared. Fewer forests mean less space for wildlife, more carbon in the atmosphere, and decreasing water quality due to sedimentation and soil erosion.

Having followed along this far, you are beginning to grasp the critical connections between food, water, and energy in the Kafue Flats. Here's another chart to clinch it.

The population in the capital city of Lusaka is climbing and with it so are water demands. That flat line on the graph is the city's groundwater supply, which will not be able to grow to meet future water demands. As a result, increased demand is likely to be sourced from the Kafue River basin.
Now you get it – if any part of your supply chain touches the Kafue Flats, you need to be aware of the associated water risks. These narratives, different from place to place, occur all over the world. Water risks are very real and very complex. Thankfully, you don't have to figure them out by yourself.
Enter WWF's Water Risk Filter, which can help you ask the right questions about water, figure out the risks, and guide your efforts to get a plan of action in place. The tool covers all relevant elements of water risks, all industries, and all countries of the world. In the Kafue Flats and all over the globe, water risks cannot be managed by a single institution alone, and require collective action from a range of actors. The Water Risk Filter is a great place to start understanding where you need to take action, assess how your institution can contribute to solutions, and explore the benefits of collective action.
For this specific case of the Kafue Flats, the identification of the core water risks, with their underlying pressures, drivers, and consequences has been invaluable in developing a plan of action to make sure conflicting water use requirements are managed cooperatively. WWF's Zambia office not only worked with specific actors to define required next steps, but also assigned timeframes and milestones to make sure the action items were genuinely actionable. Finally, combining government support, input from stakeholders, scientific data, and action items, an integrated water resources management plan for the Kafue Flats is being developed.
This management plan means that, in the face of climate change and multiple, growing demands on resources, the Kafue River, and all the people and wildlife depending on it, will be better managed and protected well into the future.