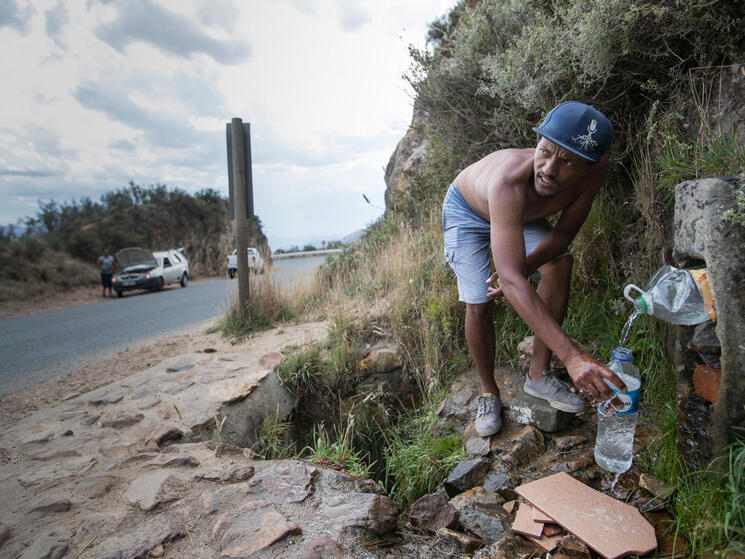 Date

: 18 October 2018

Author

: Mornè du Plessis, CEO, WWF South Africa and Viv McMenamin, CEO, Mondi South Africa
In advance of this year's FT Water Summit, Viv McMenamin, CEO, Mondi South Africa, and Mornè du Plessis, CEO, WWF South Africa, remind us that water risk and stewardship is too complex a challenge and too great an opportunity to explore alone. This blog was originally posted on Medium.

We live in times of unprecedented change. Partnership and collaboration are paramount. The global challenges – and opportunities – we face are too big and too complex for one business, NGO or government to tackle alone.
Looking beyond our own borders, working pre-competitively across sectors, engaging in stakeholder dialogue and mastering stewardship of natural resources, are all fundamentals of business success.
And the UN Sustainable Developments Goals (SDGs), our blueprint for a sustainable world, will only be met through collective effort.
Growing water risk
The urgency with which we need to engage is particularly acute for SDG 6 on 'water and sanitation for all'. Freshwater is not only a shared resource, essential for well-being, enterprise and prosperity, but in its scarcity, also a shared risk.
Most pressingly, 2.1 billion people – or three out of every ten worldwide – lack safe drinking water at home and face increased risk of cholera, dysentery and typhoid.
Beyond these basics of human dignity, droughts, floods and water pollution are bad for the economy, costing business US$14 billion in 2016 – a five-fold increase over 2015. During South Africa's recent drought, for example, revenue from agricultural commodities in the Cape region fell by around US$500 million, with the grape harvest falling 20% in 2018, resulting in a 9% decrease in the volume of wine sold.
And the outlook is equally concerning. As a water scarce country, water demand in South Africa is predicted to outstrip supply by 17% by 2030.
Creating shared value
While a decade ago, few in business were seriously considering water risk and water stewardship, water crises now feature prominently in the World Economic Forum's annual Global Risks Report and private sector collaboration with others to manage water resources and promote good basin governance – the essence of good stewardship – is becoming the norm. If we don't collaborate to find solutions, we all lose.
Water is vital for Mondi's business and for more than fifteen years, WWF and Mondi have worked in partnership to pioneer and define water stewardship, first in South Africa and now globally.
Through our work in South Africa, we've worked with water users in the forestry, sugar and dairy sectors, as well as local and national government, private and communal landowners, insurers and finance partners.
For us, working collaboratively at a landscape level, and looking across whole catchments in KwaZulu-Natal and the Southern Cape, has been fundamental to improving production processes and managing shared water resources effectively.
Through a 'social learning' approach, we've helped different sectors, businesses and land users come together and look beyond their own individual water risks toward creating shared value and securing resilient communities and freshwater ecosystems.
Globally, this has given our partnership a springboard for promoting water stewardship in the packaging and paper sector, including enhancing the WWF Water Risk Filter, and addressing critical business risks such as water scarcity, deforestation, biodiversity loss and climate change.
Together possible
In partnership, we can share and combine experience, expertise and means to find innovative, lasting solutions that ensure equitable access to shared resources – for people, for business and for wildlife.
In partnership, we can address global challenges at scale – pursuing the SDGs could generate economic opportunities in food and agriculture, energy and materials, cities, and health and well-being worth at least US$12 trillion by 2030; and bold climate action could deliver at least US$26 trillion in economic benefits through to 2030.
Together, we can overcome collective anxiety by connecting to others, moving toward our shared humanity, acknowledging the value of the other, and co-creating solutions to complex problems out of diverse conversations.
And we can achieve goals that at first may seem too ambitious.
In Nelson Mandela's words, 'it always seems impossible until it's done'.
The FT Water Summit will examine how companies can collaborate to solve shared water challenges and generate return on investments through water stewardship.