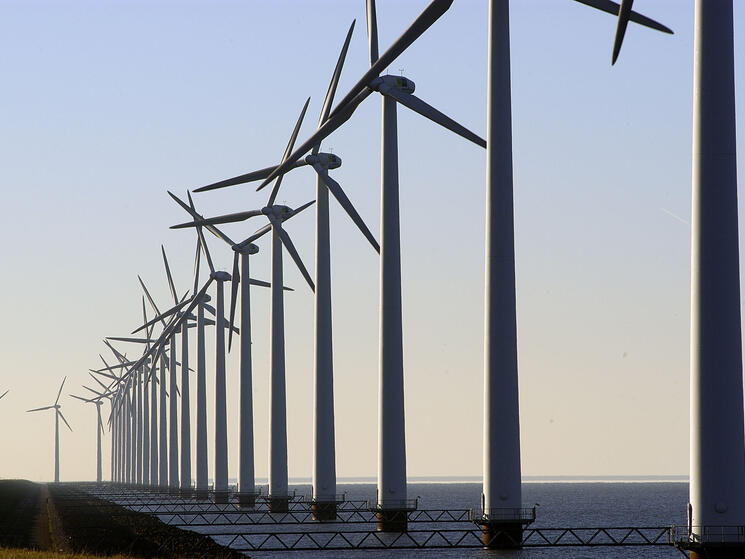 Date

: 28 July 2014

Author

: By Joshua Ryor, World Resources Institute (WRI) and Bryn Baker, World Wildlife Fund (WWF)
Earlier this month, Walmart and 11 other major companies announced their commitment to a set of Corporate Renewable Energy Buyers' Principles that outline how renewable energy providers and utilities can help meet the growing corporate demand for renewable energy.
Walmart's aspirational goal to be supplied by 100 percent by renewable energy – and to drive the production or procurement of 7 billion kWh of renewable energy globally through 2020 – is no secret. Since 2007, Walmart has made a significant commitment to on-site solar energy systems and is now the U.S. corporate leader in on-site solar energy capacity and total on-site green generation, with more installed capacity than 38 states. And Walmart isn't stopping there, recently committing to double the number of on-site solar projects on its U.S. facilities by 2020. These efforts just plain make business sense. Between Walmart's commitments to scale renewables and accelerate energy efficiency globally, the company could avoid as much as $1 billion a year in energy costs.
Walmart's Mountain View, California store is a perfect example of both Walmart's commitment to on-site solar energy as 14.5 percent of the facility's energy comes from a solar system built and installed on-site by SolarCity. However, this facility also demonstrates the challenges in procuring a 100 percent renewable energy supply for its facilities in the U.S. Available roof-space alone for a solar system is not enough to power the entire facility with renewable energy. It's just further proof that more options for sourcing renewable energy are needed.
This means that in order to reach 100 percent renewable energy, Walmart needs to complement its onsite efforts with significant purchases from other sources such as third party suppliers; and their local utility. Globally, Walmart already does this to some extent – approximately 24 percent of their electricity supply comes from Walmart driven renewable energy projects and from the grid – but Walmart will need to significantly increase offsite opportunities in order to reach its 100 percent renewable energy goal.
"These efforts just plain make business sense. Between Walmart's commitments to scale renewables and accelerate energy efficiency globally, the company could avoid as much as $1 billion a year in energy costs. "

Joshua Ryor and Bryn Baker WRI and WWF
The Problem
So why is it so hard to get to 100 percent? The barriers are beyond Walmart. Two of the biggest challenges are market structures that prevent companies from directly contracting renewable energy and the fact that electric utilities have no incentive or directive to offer customers such as Walmart renewable energy above and beyond their current grid mix and/or the state renewable portfolio standard.
In deregulated U.S. electricity markets, Walmart has the ability and flexibility to choose their retail electricity provider as well as negotiate cost effective renewable energy supplies. In some markets, Walmart can also sign Power Purchase Agreements (PPAs) – which Walmart has found highly effective for its onsite installations – for electricity from energy providers who independently own, operate, and maintain renewable energy systems.
However, in regulated utility markets Walmart is unable to choose their electricity provider. This leaves very limited options for purchasing energy directly from renewable projects. In many cases, state utility regulatory rules do not allow the use of PPAs by customers to finance onsite or offsite projects, leaving Walmart with limited options for cost effective renewable energy supplies.
The Solution
Earlier this month, Walmart, along with 11 other leading companies, signed the Corporate Renewable Energy Buyers' Principles. These companies developed the Buyers' Principles to address exactly this and other challenges large renewable energy buyers face in reaching their sustainability goals. Ultimately, the Buyer's Principles aim to increase the availability of cost-competitive renewable energy.
Primarily, the Buyers' Principles seek greater opportunities to work with utilities and regulators to expand renewable energy choices. Walmart – and other U.S. corporations – recognize that utilities are experts in providing their customers with access to least-cost energy resources. With this expertise, utilities can provide companies with the low-cost renewable energy they need to reach their sustainability goals.
At the same time, it's important to increase access to third-party financing vehicles (e.g. PPAs) and standardize contracting processes so it's simpler for companies to get what they need. At the end of the day, it's about increasing the options and flexibility companies have to green the energy inputs into their business, just as they are doing with other commodities.
Walmart is doing its part – committing publically and financially – to be supplied by renewable energy, but achieving 100 percent renewable energy will require overcoming obstacles and catalyzing new opportunities for companies to scale up their renewable energy purchases. And that means utilities and other suppliers have an opportunity to step up to serve a multi-million MWh demand for renewable energy. That's a market opportunity ripe for the picking.
Walmart Foundation has financially supported WRI's and WWF's work on corporate procurement of renewable energy and Walmart is also a member of WRI's Corporate Consultative Group.