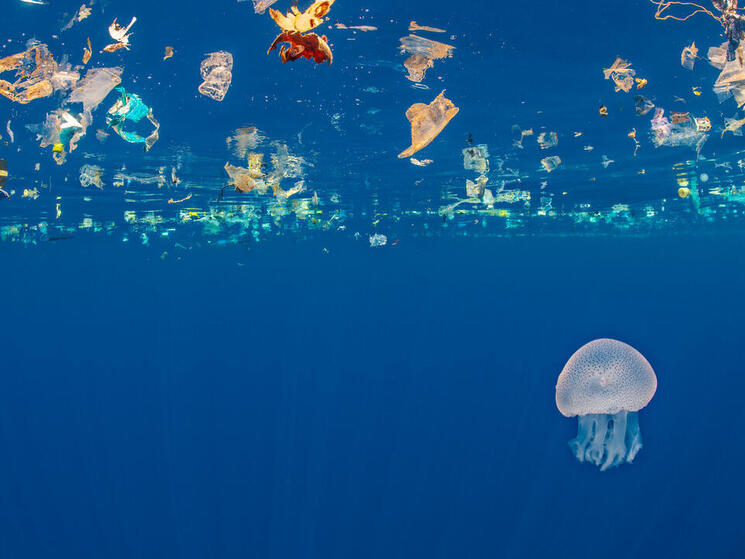 Images of plastic waste washing up on beaches, suffocating wildlife and polluting our communities have become far too commonplace. A global spotlight has been shining on this problem for years, but we need more large-scale, transformative actions to get us to where we need to be.
The U.S. is no exception when it comes to struggling to implement solutions that can address the plastic waste crisis at its core. But we cannot let that struggle slow our ambition – it's time to take a collective look at how we've mismanaged plastic and begin to reimagine our nation's relationship with this resource.
To help facilitate this process, WWF launched OneSource Coalition, a group of ambitious companies, environmental organizations, and industry leaders, who together will pave the path for a future where plastic waste is responsibly managed and our products and/or packaging are responsibly recycled and reused.
As a coalition, we are advocating for a holistic approach to public policy that can enable the implementation of an efficient, effective, and fair waste management system in the U.S. We are calling on U.S. policymakers to advance policies in three key areas: environmental justice, extended producer responsibility (EPR), and international leadership.
Together, we are ready to strengthen the plastic recycling system.
Here is what some of our Coalition members had to say:
"America's beverage companies commend WWF's bold leadership as it launches the OneSource Coalition. We are proud to stand with a diverse, committed group of stakeholders leading sustainable solutions to address plastic waste in the environment. Together, we can drive real impact by advancing policies to optimize the collection of our valuable, recyclable bottles and cans, reduce our plastic footprint, and create a true circular economy." - Katherine Lugar, president and chief executive officer (CEO) of the American Beverage Association
"Since its founding, Closed Loop Partners has invested in and accelerated solutions that help address the global plastics waste challenge. We know that to build a strong, vibrant circular economy for plastics and advance system-wide impact, collaborating with diverse stakeholders is critical. We are proud to join many leading organizations and brands in the OneSource Coalition, amplifying the call for policies that support our collective work to ensure plastics are integrated into the circular economy––never going to waste in landfills or our natural environment." - Kate Daly, Managing Director of the Center for the Circular Economy at Closed Loop Partners
"The OneSource Coalition is a powerful signal to policymakers that stakeholders are ready to see the U.S. become a leader in tackling the plastic pollution crisis and transitioning to a more circular and just economy." - Erin McCluskey, Managing Director, Ocean Plastics Leadership Network
"As an organization working to solve the climate crisis both through our members' own practices and by driving science-based U.S. policy action, we are proud to join the OneSource Coalition. Through this coalition, we will continue to advance policies to improve the environment and to implement a national producer responsibility program in the United States. These policies are integral to making the end-to-end system changes that will truly transform our waste management system into a circular economy." - Sustainable Food Policy Alliance (SFPA)
"The potential for innovation through inspiration from nature is as great as the risk we face by ignoring nature's signals. We want to help unlock that innovation." - Nina Butler, Stina Inc.
"The Coca-Cola Company: The Coca-Cola Company is steadfast in our commitment to help solve the plastic waste crisis, and we understand we can't fight this battle alone. Joining the WWF OneSource Coalition with other ambitious organizations and industry leaders will help us make a deeper impact in effectively managing waste and ensuring our products are responsibly recycled and reused." - Alpa Sutaria, General Manager Sustainability, The Coca-Cola Company
"The Ocean Foundation is proud to participate in The OneSource Coalition as we work to shift plastic production towards a design that embraces the circular economy, makes producers responsible as well as consumers, and plans for a just and equitable transition as we integrate these solutions globally." - Mark J. Spalding, President, The Ocean Foundation
##