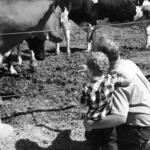 With a passion for animal care and advancing innovative ideas, owner Steve Maddox aims to do more than discover and test new solutions — he shares his experiences with other farmers so that they may find similar success.
Continue reading
Date

: 31 July 2014

Author

: Sandra Vijn, WWF
There's another energy revolution developing from the most unlikely of places – cow manure
Today, President Obama released a "Biogas Opportunities Roadmap", as part of the administration's Climate Action Plan - Strategy to Reduce Methane Emissions. The Roadmap promotes the market potential and benefits of biogas and encourages the adoption of closed-looped biogas systems. In action, this is collecting cow manure and allowing it to ferment in a sealed tank. The methane released during fermentation is captured and used for energy. In a closed-loop system, the "cooked" manure – essentially sterilized -- is separated into liquid and solid. The liquid is used as crop fertilizer and the solids can be used as cow bedding or compost.
Continue reading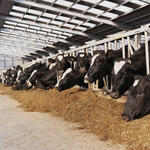 Date

: 11 November 2013

Author

: Lorin Hancock
The Innovation Center for U.S. Dairy and WWF recently released a documentary-style video series chronicling the journey toward sustainability of five dairy operations. These dairies, winners of the 2013 U.S. Dairy Sustainability Awards, have taken steps varying from simple to ground-breaking in order to protect the environment, increase profits, and be better neighbors within their communities.
If you know much about the dairy industry, this is fascinating and inspiring stuff. However, I suspect that the majority of Americans have no idea where their milk comes from. Milk has been plentiful and safe in this country as long as anyone living can remember. That's good enough for most people.
Continue reading