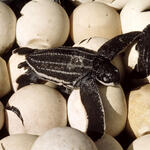 Date

: 15 April 2022

Author

: Ayse Koçak, TikTok
At TikTok, our mission is to inspire creativity and bring joy. We're proud that over 1 billion people come to our platform each month in search of entertainment and an outlet to share what matters to them. We know that this would not be possible without our community's trust in our ability to maintain a safe and welcoming environment. We believe that everyone should be able to express themselves creatively and be entertained, but not at the expense of other forms of life.
Last year, TikTok joined the Coalition to End Wildlife Trafficking Online, which was established in 2018 by World Wildlife Fund (WWF), TRAFFIC, and IFAW to bring together e-commerce, search, and social platforms across the world to reduce wildlife trafficking online. Since then, we've worked closely with WWF to enhance our policies, launch in-app safety features and tools, and encourage education around the life forms with which we share a planet. In doing so, we aim to continue our work to prevent harmful content and behavior, including wildlife trafficking, from proliferating on the platform.
Continue reading