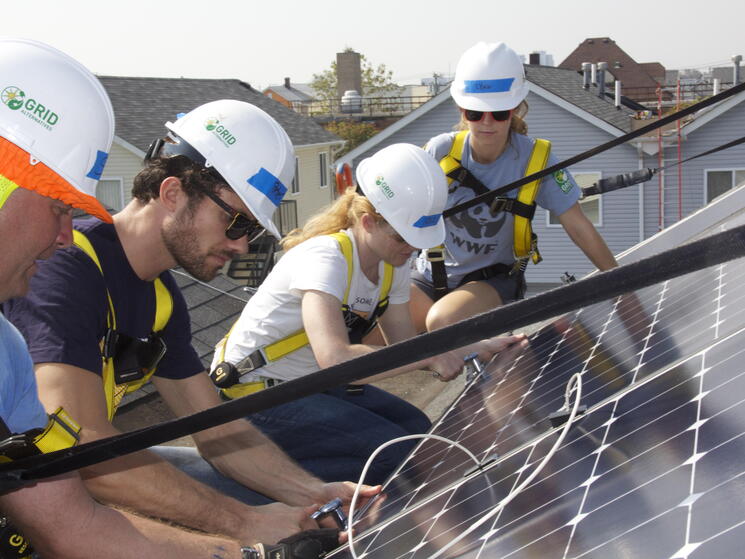 Date

: 13 November 2013

Author

: Lynn Englum
At 8:00am I arrive in Far Rockaway a neighborhood in the most southern part of Queens, NYC. Superstorm Sandy made landfall here more than a year ago, and I drove by various homes still in stages of (dis)repair. Many showed telltale signs of water damage. Others were abandoned completely. Neighborhoods across New York City were hit hard by the hurricane, but perhaps none were ravaged as much as Far Rockaway.
It was here that I gathered with a team of volunteers to install solar panels on the homes of three families in need. The effort was organized by the non-profit GRID Alternatives, which has been bringing solar power to communities in California for years, slashing the utility bills of the homeowners while offering job training to their volunteers in the process. Today's project will be their first after expanding their scope to the East Coast.
Solar Spring Break Partnership
World Wildlife Fund and GRID Alternatives just launched a Solar Spring Break program to mobilize youth to do the same. By March 2014 hundreds of college kids will soak up the sun on roofs during their spring breaks while installing solar panels on low income homes, like we are today.
I couldn't be more excited to experience it firsthand!
Soon we were split into three teams, one for each house. My team would be working on a two-story home owned by a middle-aged couple. The homeowners told us how extensive flooding damage forced them to live upstairs for six months, setting up a makeshift kitchen to get by. It took months before insurance kicked in to help them rebuild.
My teammates and I took turns retrieving solar panels from the truck, testing them to make sure they worked and then carefully hoisting them up a ladder to the roof.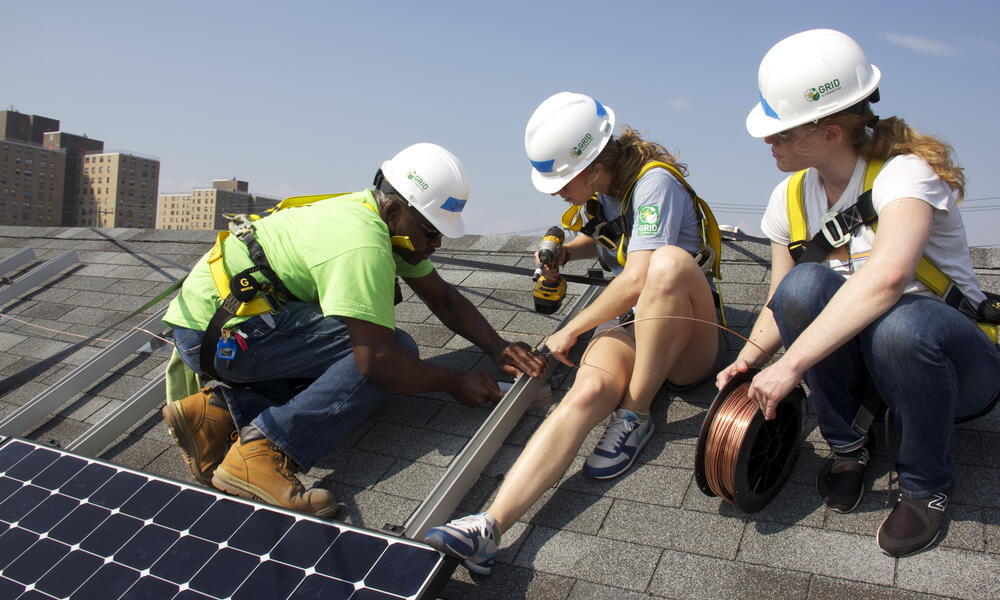 The Power of the Sun
By late afternoon I was on my fourth sunscreen application and gulping down water. Scott, our solar expert from GRID Alternatives, warned us that the most common injury from installing solar panels is a bad case of sunburn. It was a clear day and up on the roof the sun beat down on us relentlessly. Up here on the roof there is no escape from the power of the sun.
Johnny, one of the homeowners, joined us on the roof and expressed his concern that the solar panels would not survive another big storm. Don't worry, Scott told him. Solar panels can withstand golf ball-size hail falling at 70 miles per hour. In fact, the only solar panels lost in Hurricane Sandy were those connected to roofs that were torn off completely.
One by one we placed the solar panels into position. The installation was surprisingly easy. It was mostly all manual labor. We did have one hiccup though: once we didn't line up our panels correctly and needed to readjust them. Twenty minutes later we were back on track.
As the sun sank low in the sky, we started to wrap things up. Scott connected the electrical wiring and made sure everything looked great, hiding wires beneath the panels and using nondescript piping to connect the panels to the electrical inverter on the side of the house.
We finished just before sunset. From my high perch I took a final look around at what us rookies had accomplished. The three homes were beautiful and modern-looking with brand-new solar panels adorning their roofs. But what was even more exciting was knowing that the first rays of sunshine tomorrow would be the start of a brighter future for the homeowners—saving them over a thousand dollars on their energy bills each year.
How Much Can You Save with Solar?
Going solar is more affordable than you think. Since prices have dropped 80% from 2008, more and more Americans are choosing to go solar as a way to slash their energy bills and protect the planet. Americans who lease solar panels can pay nothing upfront while saving an average of $600 on their electricity costs each year.
Get a free consultation and learn how much you can save at worldwildlife.org/solar.
Photos: © Ian CR Martin/WWF-US.